Every month, our Outdoor Education program organises a plethora of fun and exciting activities for all our students. For November, Angeles (Class of 2018, Venezuela), summarizes the three hikes that our intrepid adventurers embarked on!


Mount Haruna Hike Haruna-san is a dormant stratovolcano which has a summit caldera that contains the symmetrical pyroclastic cone of Mount Haruna-Fuji. Along with Mount Akagi and Mount Myōgi, it is one of the "Three Mountains of Jōmō" (Jōmō being the old name for Gunma prefecture in Honshu).
Led by Mr. Murphy, Haruna-San, a trip which was more ice-cream than extreme, saw two groups visit the beautiful Haruna Shrine, a series of beautiful old buildings amidst rocky outcrops. Then, the two groups made their way separately up to Haruna Lake, a caldera lake amidst a ring of forested peaks including the beautifully symmetrical Haruna-Fuji. The weather was mixed, leading to atmospheric views of the peaks and the lakes and whilst many students stayed out for the views, a few identified something even more important; the nearest onsen!
"Before the hike, I was scared. In the past, I had struggled a lot while hiking and to be honest, I thought I would never do it again. In the beginning, my mindset was to get it over with, but some hours into the hike, I realized it is another way to spend time with people. Going through obstacles with people is nice, and we don't get to do that often. Once you overcome the challenge, it is something you will later take pride in and remember forever. What I learnt this day is that; you never know! You might like it, you might not, and you might as well be challenged but still wish to do it again!" 
– Vidya (Class of 2019, Indonesia)
Koasamayama Sunrise Hike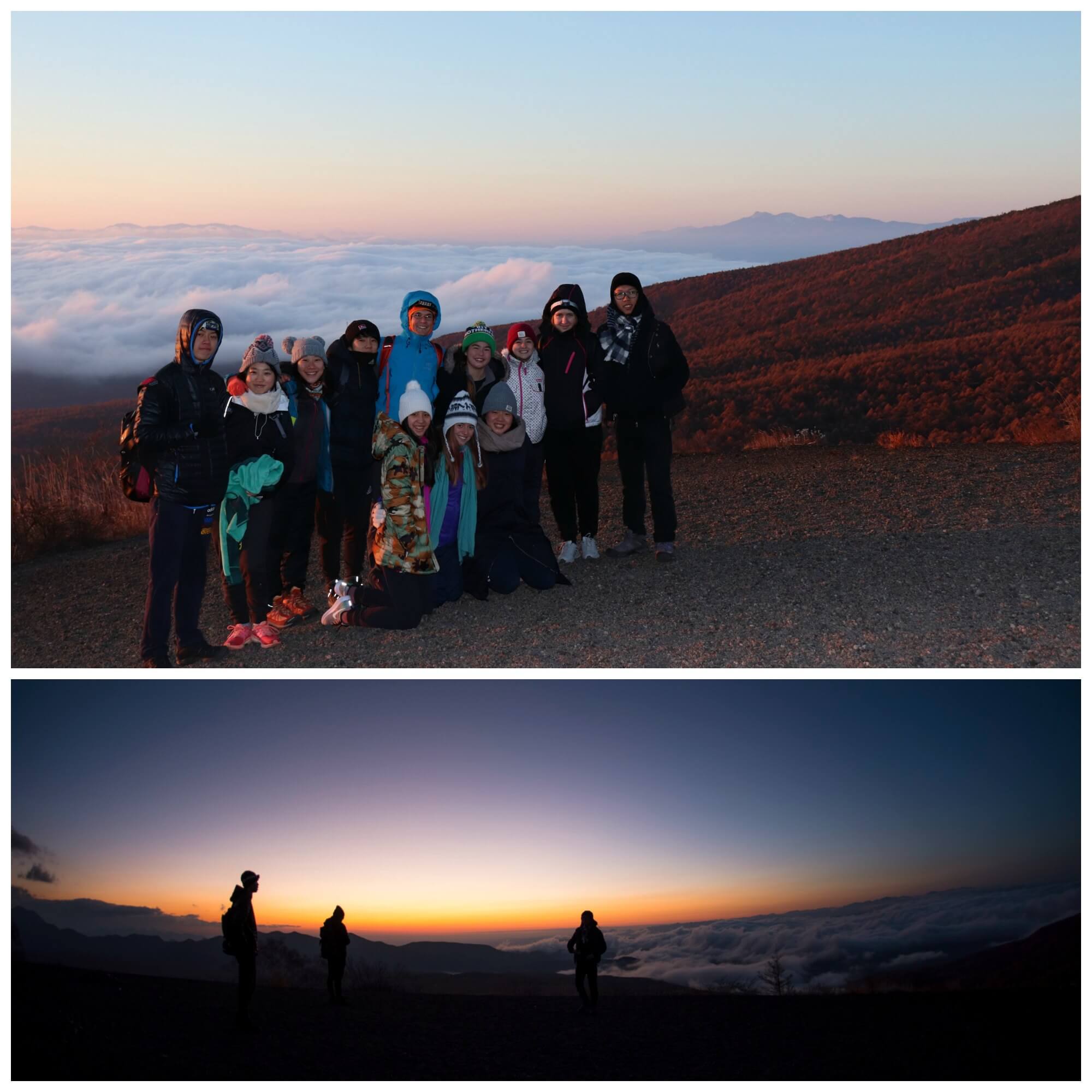 Students had the opportunity to go up Mount Koasama, a 1.655m mountain located on the west side of Mount Asama, to watch the beautiful sunrise. Sunrise hikes are very popular at our school, and they are the perfect opportunity for those who wish to start off the day with great scenery, take pictures and enjoy the company of others while having some snacks at the summit! Lead by Mr. Murphy and Stream 3 Student Leader Angeles (G12, Venezuela), students gathered at 4 AM, to then drive to the starting point, Mine no Chaya, and hike up for around 45 minutes a 250m vertical gain. After contemplating the astonishing view, students go back to school and continue with their day, full of energy and with great pictures taken!
"I really enjoyed the sunrise hike and it was definitely the highlight of all the hikes I've done so far. What I liked most about it was how rewarding it was and the views were literally breath-taking! Although the hike started on a very early and cold morning, after hiking in the dark for awhile,  we had reached the top, and it was such an out-of-the-world experience making our way towards the horizon, and being able to literally stand above the clouds! We had Mr. Murphy taking the time lapse of the sunrise, and not only that, we had the views of the mountains in the back, and the view of the city below, so I could only sit there in awe of how beautiful it was. In the end, we had gone in a small group, so I felt that we all bonded very well and pushed each other to make it just in time to see the sunrise!"
– Christine (Class of 2020, Singapore/Taiwan/Japan)
Nyoho-san, Stream 2 and Stream 3 Overnight Hike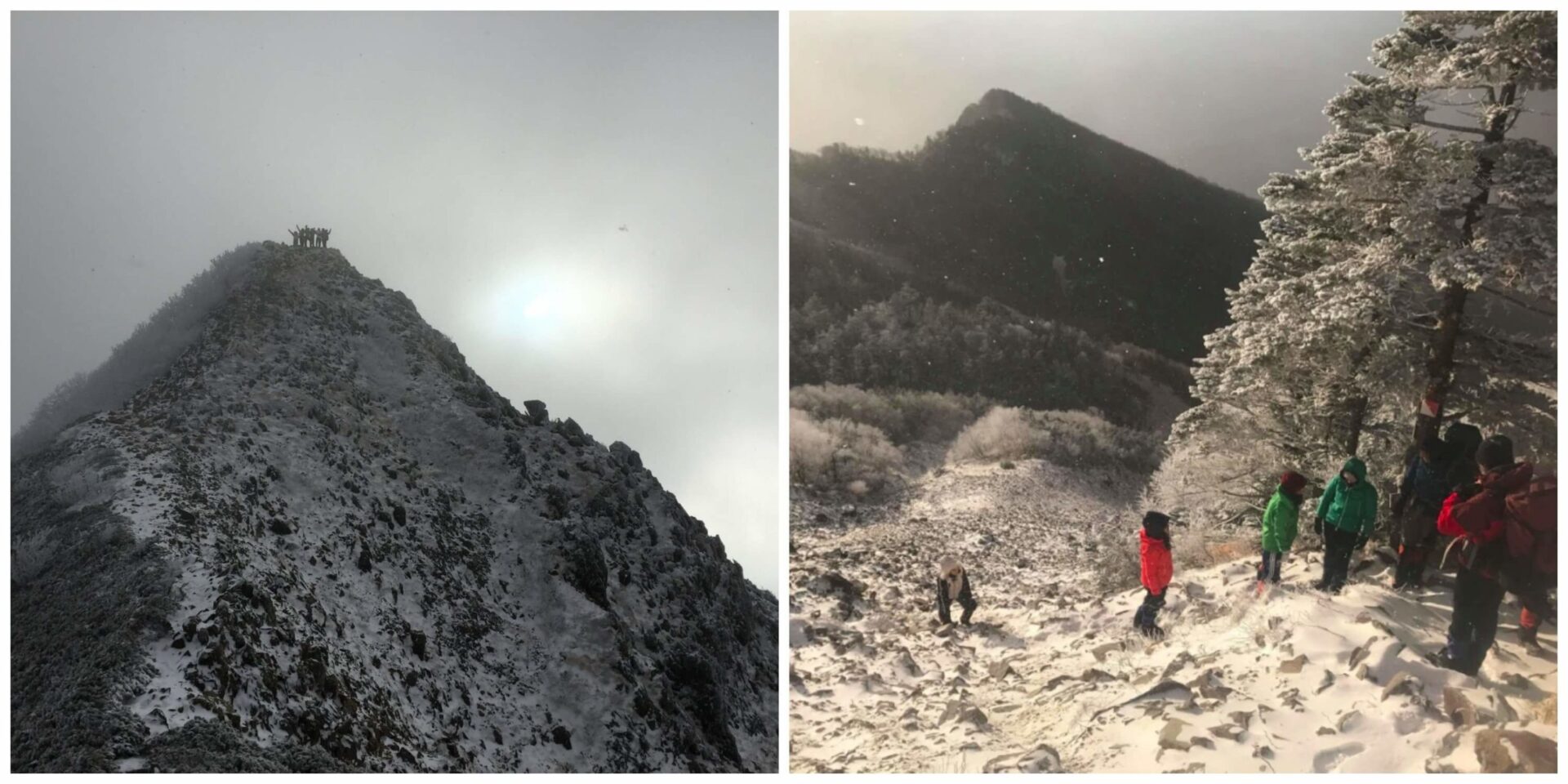 Our Stream 2 and Stream 3 students,  embarked on another exciting adventure this month to Mount Nyoho, a 2.483 meter tall mountain located near Nikko city, in Tochigi prefecture. This trip was proposed and initially designed by Stream 3 students who have received training to assess routes and suggest trips to the Outdoor Education program. In terms of planning, the team, gathered and discussed different factors, such as weather conditions, the type of terrain, distance and vertical gain, escape routes and phone signal, to then finalize the route that they would hike and its respective backup plans. Students hiked a total distance of 26km, an ascent of 800m in the first day and a descent of 1,400m on the second day. During the hike, students had the chance to exercise their acquired technical skills and make thoughtful decisions. After conquering the peak of Mount Nyoho, students hiked down to the famous Nikko City, and had the chance to visit the iconic Toshogu Shrine and a local onsen!
"Through the hike at Nyoho, I rediscovered the joy of hiking. Normally, as a Stream 3 Student Leader, I have to take responsibility and be in charge of everything and everyone. This is very fun, but it can also get a bit tiring and repetitive. This time, I had a different experience where I was hiking with people of equal responsibilities, and there was a shared sense of commitment. We owned the experience together as everyone was in charge and responsible for each other, hence I rediscovered the joy of hiking."
– Kunawat (Class of 2018, Thailand)