UWC ISAK's university advising program aims to make the transition to further education seamless and rewarding. Our dedicated University Advisors help students select post-secondary options tailored to their interests and needs. We provide diverse resources, including meetings with admission officers, to support students and parents throughout the application process. Our goal is to foster transformational leaders by encouraging exploration of all post-secondary opportunities with an open mind.
Your 3-Year University Advising Journey
Considering what you will do after UWC ISAK Japan is not limited to your final year at UWC ISAK Japan. Rather, it is an ongoing process throughout your time as a UWC ISAK student. Learn more about how our university advising program supports you throughout your journey.
In Grade 10, students are expected to:
Take the opportunity to explore your strengths and interests through the various courses and activities offered. It's important to regularly reflect on what you enjoy, what challenges you, and what interests you. This is a crucial part of the UWC ISAK Japan experience and also something that universities value in their applicants.
Develop and refine your communication and organizational skills. Keeping a calendar, staying on top of deadlines, and using effective communication practices, such as reading and responding to emails and using appropriate language, are essential. If you have questions, don't hesitate to reach out to your teachers and ask for help. Strong communication skills are a key factor in achieving success.
Read as much as possible, from literature to comics, as it's a vital foundation for academic coursework and leads to leading a more mindful life.
Select your IB subjects in consultation with your IB advisors at the end of Grade 10.
Frequently Asked Questions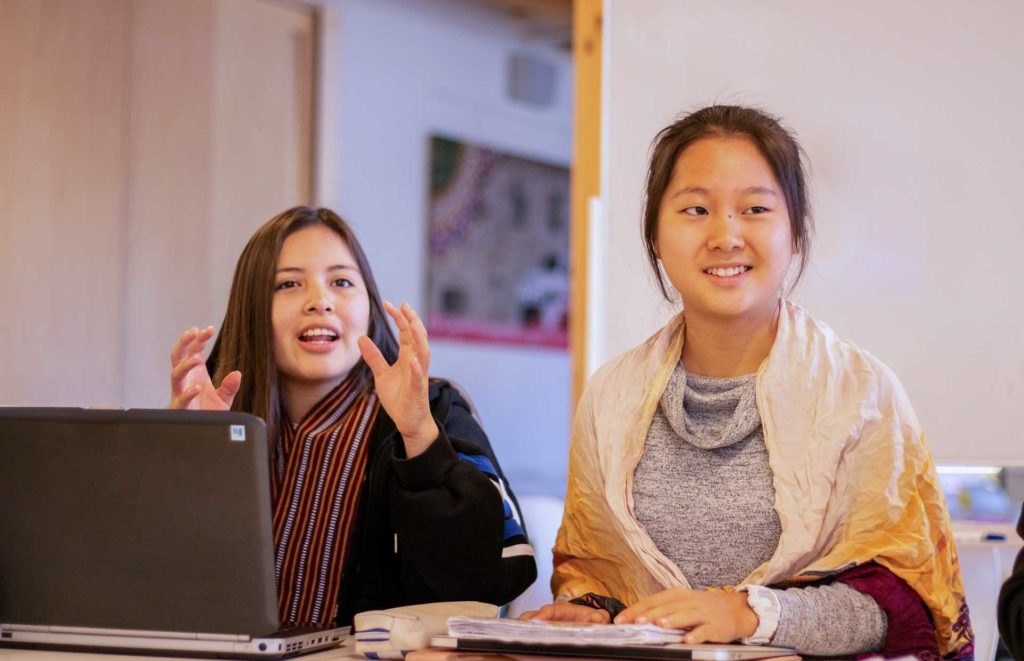 In Grade 11, students will enter the first year of the International Baccalaureate Diploma Program. They will be challenged academically as they enter small discussion-based classes that demand critical thinking and careful analysis. Grade 11 students will also be laying the groundwork for meaningful post-UWC ISAK plans. UAs will help during this period by providing structured activities and resources to help students make sense of the myriad of opportunities and possibilities that lay in front of them. In Grade 11, students are expected to:
Attend as many visiting college presentations as possible and speak to the representatives. These are great opportunities to learn more about a particular university in an intimate setting. Typically, the representative who visits UWC ISAK will be the same person who will read the student's application so it is an incredible opportunity to introduce yourself and make a great first impression. Be sure to write a thank you afterwards — especially if you plan to apply!
Maintain a strong academic foundation. One of the most important aspects of Grade 11 is to keep solid grades. Students should endeavor to improve their academic performance and meet all deadlines.
In the second semester, students should:
Design and implement a post-UWC ISAK plan. Starting second semester, students begin creating a road map to university or for any other post-UWC ISAK plan. If a student is considering entering university immediately, this is time to note any countries and universities that pique your interest. If a student is feeling uneasy, this is a great time for conversations with faculty members, advisors, and UAs.
Determine a testing plan. This is the time to start thinking about standardized tests. Speak with your UA to determine what tests are needed for the universities to which you plan to apply, and then create a plan and timeline for taking the tests. The SAT/ ACT is offered at UWC ISAK. The testing schedule will be shared with students and parents at the beginning of the academic year. If an English proficiency test (Duolingo/IELTS/TOEFL) is necessary, plan to sit for the exam virtually during a school break.

Begin to develop an outline or rough draft of any required essays (common app, personal statement, etc.). A great personal statement is not developed overnight. Drafting, editing, rewriting, and more editing takes time; all of these are necessary steps to present yourself in the best light. Create a spreadsheet of schools to which you will apply, deadlines and essays required — this will help you organize your time and see where there are overlaps in required essays.
Identify two teachers to write letters of recommendation.
Frequently Asked Questions
Grade 12 is an exciting time for UWC ISAK students as they begin to envision their post-UWC ISAK lives. During this period, students should focus on thoroughly understanding the expectations and specific requirements of each subject and making strong progress on their Extended Essays (EEs). They should also be well underway with their Creativity, Activity, and Service (CAS) component of the IB and be growing as transformational leaders while being fully engaged in community life at UWC ISAK. Additionally, Grade 12 is an excellent time for students to develop a stronger sense of purpose as they decide what they ideally want to pursue post-UWC ISAK.

In the first semester, students should:
Attend regular meetings with the assigned University Advisor. Each student should meet with their UA to create a college map to plan out their Grade 12 year. We recommend regular check-ins throughout the semester to ensure the student is on the right path to achieving their goals.
Finalize their college list and determine deadlines. Students should continue to develop their college road map by creating/refining a spreadsheet of schools they are interested in, application requirements, and various institution deadlines. Be sure to check UWC ISAK's Internal Deadlines so you can make sure that teachers and UAs have ample notice to prepare and send/upload your documents.
Polish and finalize college application essays. Students should continue to edit their essays. Nothing should be submitted without an additional pair of eyes! Take advantage of your UA and get feedback on your work!
Take any required standardized tests one last time. As a rule of thumb, the month in which your application is due is the last month in which you can test.
In the second semester, students should
Aim for a strong academic finish. This is the final stretch! Students should remain focused on their grades and continue to prepare for IB exams. Last impressions are just as important as first impressions!
Continue to complete and submit applications. Students applying to countries outside the US and UK (i.e.Australia,Japan, Netherlands) will begin to submit their applications. During this semester, careful planning is essential to minimizing the effect of these applications on IB exams.
Share the good news! Acceptance letters will arrive from December to April. Students are encouraged to report the results of their applications to University Advisors and teachers — especially those who wrote letters of recommendations for you. It is important that you thank your teachers for writing, and keep them posted on your results! We are a team and we are all rooting for you!
Frequently Asked Questions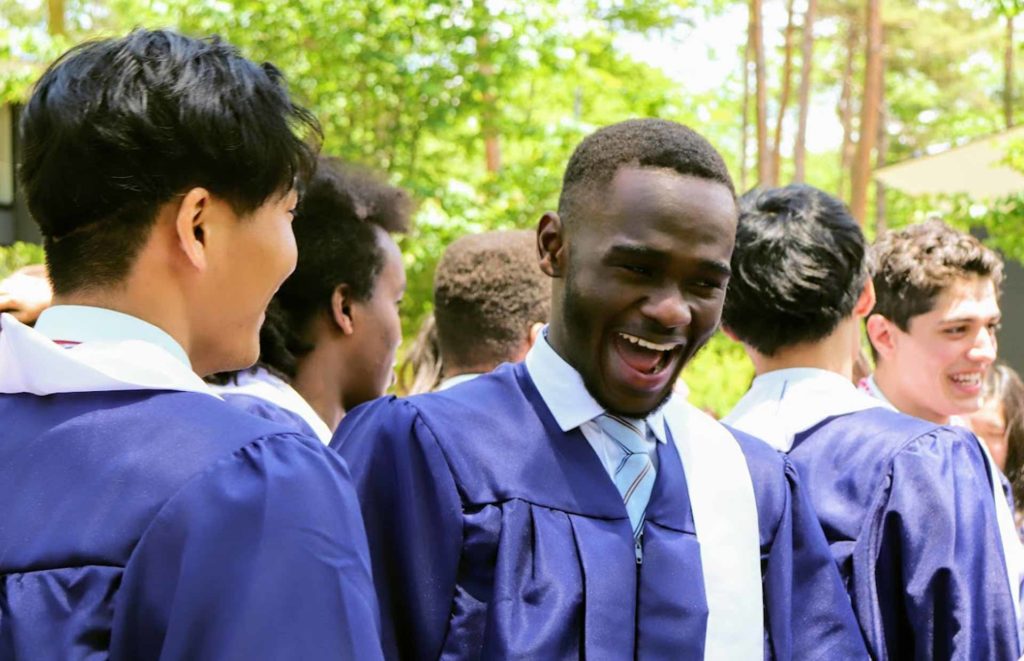 What Happens After Graduation?
At UWC ISAK, we believe that there are many paths to success, and we encourage our students to explore different options and find the best fit for their individual needs and interests. While pursuing higher education at a university is a traditional route for many students, we also recognize the benefits of taking a gap year or exploring entrepreneurship. In fact, we are thrilled to see our students pursue these alternative paths and create their own unique journeys. Whether students choose to continue their education or embark on an entrepreneurial venture, we are committed to supporting them every step of the way.
The rigorous IB curriculum and UWC ISAK Japan's innovative leadership program prepare our students for whatever challenge they choose to pursue and make them highly sought after by universities around the world. Graduates of UWC ISAK Japan have matriculated to top colleges and universities in sixteen countries.
Gap Year & Entrepreneurship
We love seeing our students further their education at universities, but we are just as excited when our students choose to pursue gap year opportunities or even launch their own startup.
Each year, a few of our graduates decide to take a gap year to volunteer in a structured program, travel abroad, or take time to pursue a passion or interest. In recent years, graduates have taken a year to participate in a Semester at Sea and Global Citizen Year programs or start their own business. Taking a gap year before college can be tremendously beneficial for some students, and our university advising department supports students as they explore and pursue this option.
Information for College Representatives
We welcome college and university admission officers to UWC ISAK Japan to tour our facilities, meet with our students and present information to our students in an informal atmosphere. Our beautiful, wooded campus is located in a private resort community just outside Karuizawa, Japan. An easy 70-minute train ride on the shinkansen (bullet train) from Tokyo station, Karuizawa offers fresh air, four distinct seasons, and a refreshing change from the bustle of Japan's bigger cities.
To check availability or schedule a visit, please visit our booking page on Cialfo here!