Empowering Leadership Skills and Global Impact at Spring 2023 Project Week
Spring 2023 Project Week at UWC ISAK Japan was a transformative experience for our students as they honed their leadership skills by tackling pressing issues and taking action. As part of our International Baccalaureate Diploma Program and Grade 10 Leadership Program, these week-long initiatives took place twice a year, with students engaging in diverse projects that spanned Japan and beyond.
This year's Spring Project Week saw unprecedented collaboration between Grade 10 and 11 students, culminating in a presentation to the entire student body and faculty. Students achieved remarkable results with projects across Japan, Bangladesh, and India, setting the stage for lasting impact.
Here is a small selection from the many inspiring leadership projects at UWC ISAK Japan.
Sustainability Takes Center Stage
During Project Week, several groups prioritized environmental sustainability. For example, grade 11 students Mayte (Mexico), Sahana K (Singapore-Malaysia), and Renise (Lulu) (Marshall Islands) embarked on an upcycling plastic initiative. "We explored creative ways to turn waste into beautiful, functional items like jewelry," said Mayte. "It's inspiring to see how we can contribute to reducing plastic pollution."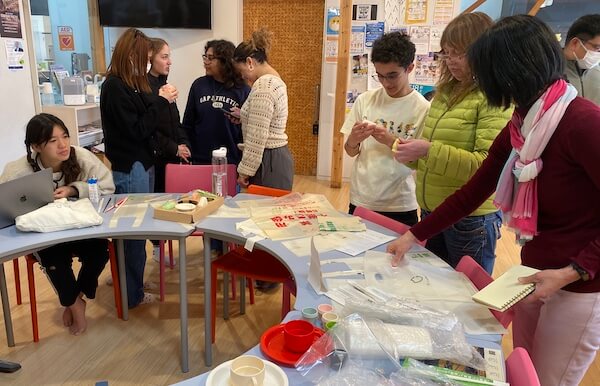 Promoting eco-friendly shopping bags was another focus, with Amelia (Japan, US), Jana (Serbia), Lauren (Netherlands, Indonesia), and Lemie (Taiwan) advocating for rice resin plastics. They invited Mr. Uden from Biomass Resin to present the advantages and disadvantages of bioplastics made from locally produced rice resin. "We learned so much from Mr. Uden's presentation on the advantages and disadvantages of bioplastics," Lemie shared.
Global Outreach and Impact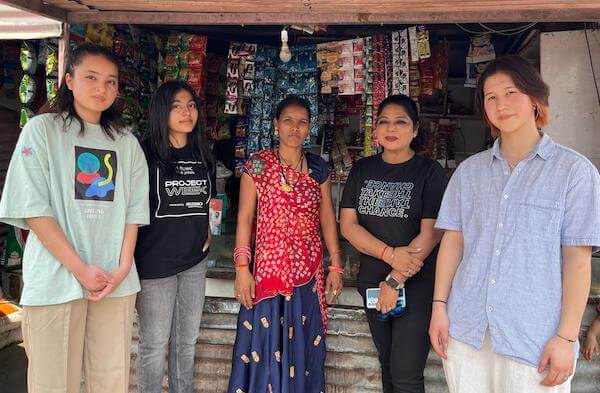 Students expanded their horizons by venturing beyond Japan for Project Week. Mira (Belgium, India), Hana (Japan, US, Colombia), Rihoko (Belgium, Japan), Sahana F (Singapore), Sylvie (New Zealand, UK), and Declan (US, Canada) traveled to India to better understand and address period poverty. "Working with UWC Mahindra and NGOs in Mumbai and Pune opened our eyes to the complexity of this issue," Mira said. The visit is part of a larger project that aims to enhance menstrual health accessibility at UWC ISAK and break the taboo around periods.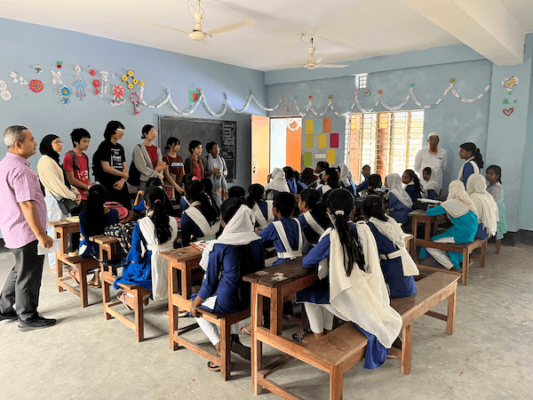 In Bangladesh, six students volunteered at Emdad Honjo Ideal Girls School, led by Parizad (Bangladesh) and chaperoned by Mineko-sensei. Helping at the innovative girls' school was an unforgettable experience for the students and taught them the importance of education and the impact they can make.
Several other projects focused on making positive changes in local communities outside of Japan, such as Project Nepal, a project that originated in 2016 and is now led by Cami (Guatemala), Krish (Nepal), and Valentine (US) and Wells Around Us by Pietro (Italy), Reno (Oman) and Rosalie (Norway) which is fundraising to build a well where needed in the African continent with The Water Project charity. 
Embracing Technology and Innovation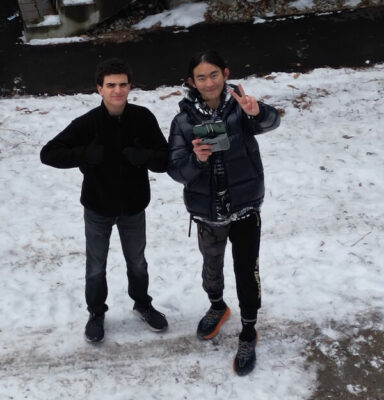 Technology and innovation played a significant role in Project Week. Amine (Grade 10, Lebanon) and Ethan (Hong Kong) used multi-spectral imaging to predict plant illness and damage. Amine reflected, "Collaborating with a local farmer and running tests on the UWC ISAK vegetable garden was an exciting way to apply our research and make a real-world impact." Check out their findings in this fascinating video and read their full story in this blog post.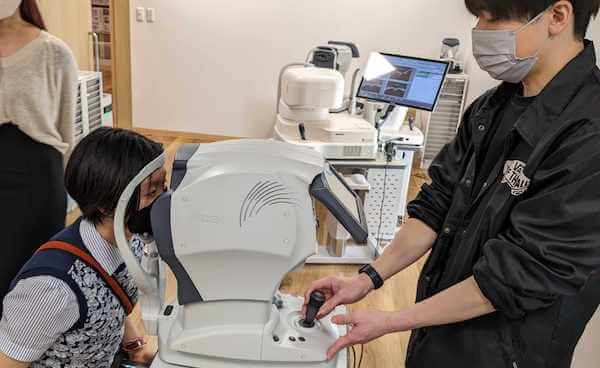 Midori (Grade 10, Japan) worked on a product to identify strabismus using gaze estimation. "Visiting OUI Inc. inTokyo and receiving feedback from doctors was invaluable," Midori shared. "It was thrilling to see how our project could potentially help people access eye care more easily."
Enhancing Education and Accessibility in Japan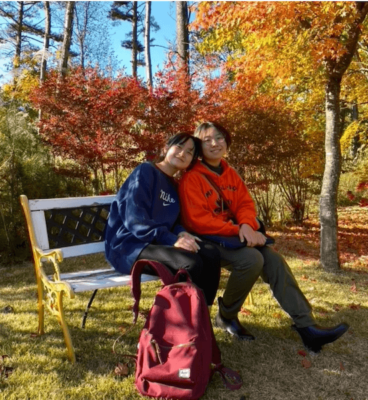 Several projects focused on improving educational opportunities within Japan. For example, grade 10 students Sayaka and Midori created Project Tomo to make Japanese public education more accessible to foreigners and returning Japanese families. "During Project Week, we concentrated on building our website and writing blog posts while meeting stakeholders in Tokyo," Sayaka explained. "We're passionate about helping families navigate the education system." Learn more about Project Tomo in this article.
Japanese Grade 11 students Dan, Daiichiro, and Gentaro aimed to integrate Startup Weekend into UWC ISAK's yearly calendar, providing students a platform to practice leadership skills and pitch their ideas to investors. As a result, Gentaro won first place (3,000,000 JPY), and Dan was second! "Participating in Startup Weekend Miyazaki and achieving success was incredible," said Gentaro. "We can't wait to bring this experience to our school community."
Celebrating Traditional Japanese Crafts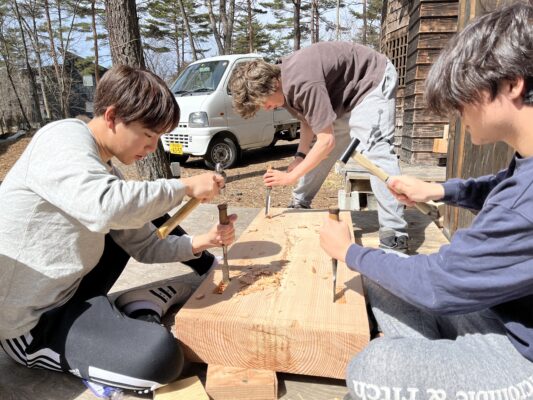 Project Week also allowed students to immerse themselves in Japanese culture and traditions. Fred (Portugal), Hiro (Japan), Joshua (Canada, Italy), Robbie (Japan, US), and Verlon (Japan) collaborated with local craftsman Mr. Tsuchiya to create a wooden bench using traditional methods. "Learning and applying age-old techniques was both challenging and rewarding," said Fred. "It's an experience we'll always treasure."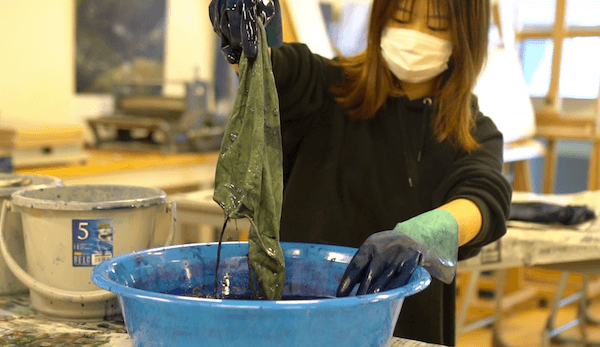 Marika and Rio from Grade 11 visited Kyoto to explore the historical roots of indigo dyeing techniques. Marika shared, "Creating beautiful indigo-dyed textiles and sharing them with the UWC ISAK Japan community was a wonderful way to showcase this traditional art form."
To read more on the influence of traditional Japanese handicrafts and craftsmanship during Project Week, check out this post. 
Breaking Language Barriers for a Foreigner-friendly Japan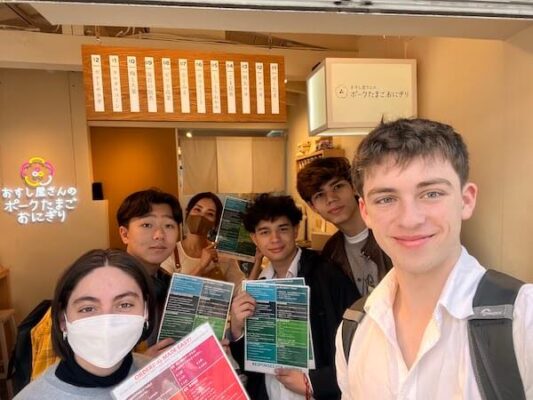 Students also worked on projects to make Japan more accessible to foreigners. Christiaan (South Africa), Darius (UK, Hungary), Juan (Colombia), Maria (Venezuela), and Oswell (Japan, US) developed a bilingual pamphlet called Interfood to facilitate better communication between customers and servers at restaurants. "Having our project featured by the Colombian Consulate was an honor," Juan mentioned. "We're committed to making Japan a more inclusive place for foreigners." Their next step is to develop an app gathering Tokyo restaurants' information in English.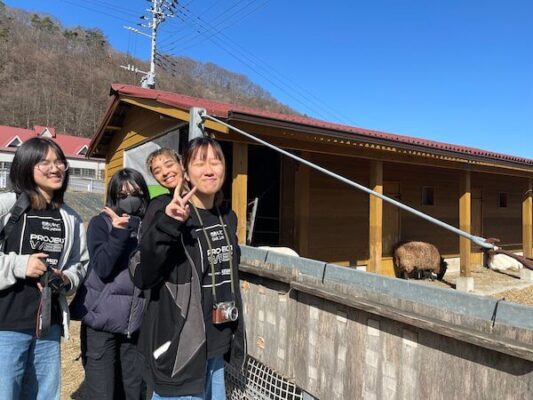 Kris (China), Nina (China), and Vera (US) from Project Ikou aimed to promote local tourism around Karuizawa by writing English content about hidden gems in Nagano and surrounding prefectures. "We were thrilled to explore the charming town of Shimonita in Gunma Prefecture," said Nina. "Our goal is to make these beautiful locations more accessible to foreign travelers."
Research and Academic Exploration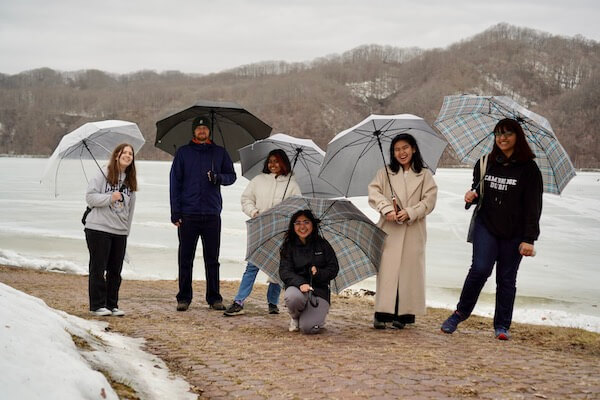 Faculty-led CAS projects enabled Grade 11 students to delve into research topics from history and anthropology toneuroscience, engineering, and robotics. After welcoming an Ainu family on campus last semester, Anisa, Daniela, Manahil, Rachel, and Tamar, guided by Mr. Bouran, worked on understanding and raising awareness about the Ainu people's language and traditions. "Our visit to Hokkaido during Project Week was a profound experience," said Tamar. "We're now working on a documentary to share our findings."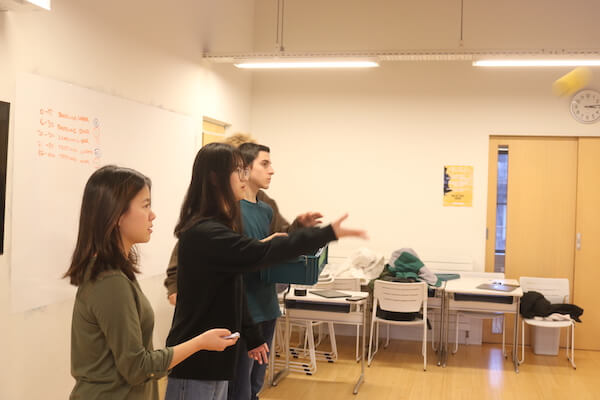 Under Dr. Ruben's guidance, Alessandro (Italy), Lison (France), Luka (Bosnia and Herzegovina), and Zelan (Philippines) researched the impact of prism adaptation on cerebellum learning outcomes. Conducting experiments at Chubu University's Neural Cybernetics Laboratory was truly inspiring for students and they are eager to continue our research and publish their first paper.
Spring 2023 Project Week was a fantastic opportunity for UWC ISAK Japan students to develop leadership skills, engage with diverse communities, and tackle global challenges. The experiences and achievements of these young leaders will undoubtedly leave a lasting impact on their lives and the communities they serve.