WHY DIVERSITY?
In today's increasingly divided world, I believe that the UWC movement's mission of "making education a force to unite peoples, nations, and cultures" is becoming more relevant than ever. Instead of rejecting (or even attacking) different perspectives, it is critically important that we try to embrace and celebrate our differences.
We welcome students from around the world and from all types of backgrounds not because we want to gather people to conform to a certain belief system or way of thinking. Rather, we aim to appreciate that many perspectives exist in the world. And it is through exposure to different perspectives that we can better understand what separates us. It is our hope that through this process, we make progress toward unity.
Understanding diversity boils down to whether or not we can put ourselves in the shoes of those on the other side of the table and truly empathize with where they are coming from. We are firm believers that these important lessons can be best learnt and nurtured in a fully residential academic environment.
WHY CHANGEMAKERS?
UWC ISAK Japan's unique identity lies in our emphasis on nurturing and empowering changemakers. How does that relate to the second half of the UWC mission: "… for peace and a sustainable future"? These phrases used to be often associated with working for large international organizations that try to tackle world-wide problems on a global scale. But times have changed and the world's problems are becoming more and more complex. Simultaneously, the solutions are becoming less straight-forward.
We are in serious need for unconventional ideas and approaches to tackle the challenges—and the opportunities—that lay before us. In today's increasingly connected world, we also need to recognize that seemingly small changes on the ground could have a significant impact on the final outcome. We believe that experiencing small successes in your immediate community (or even in yourself on a personal level) can drive bigger changes when future opportunities arise—and when the world comes calling.
It is our humble hope that our school will mark the beginning of our students' life-long pursuits of "being the change you want to see in the world"1 instead of relying on others to change it for them.
WHAT IS MOST IMPORTANT TO YOU?
Our school motto says: "One Life. Realize your potential. Be a catalyst for positive change". We live only once. We cannot live our lives just to fulfill someone else's expectations. As someone once said, you should not allow others to tell you who you are – you have to tell them who you really are.
When we think of "positive change", we tend to first think of what the world needs. Before doing that, it is important to ask yourself who you are and what is most important to you. What are you most excited about? What keeps you up at night? Making changes is not as easy as it seems. Unless "the change" is truly close to your heart, you'll likely give up when you are faced with a series of obstacles.
At UWC ISAK Japan, we often talk about being a "transformational leader". I personally do not believe that you need to have a desire to become a leader. Your own passion and cause will naturally serve as the spark that lights a fire within you that others will strongly resonate and empathize with. "Your calling is where your biggest joy meets with the world's biggest hunger."2 Where will that be for you…?
"There is more in us than we know if we could be made to see it; perhaps, for the rest of our lives we will be unwilling to settle for less." – Kurt Hahn (Founder of the UWC movement)
1 – Mahatma Gandhi
2 – Frederick Buechner
---
About Lin Kobayashi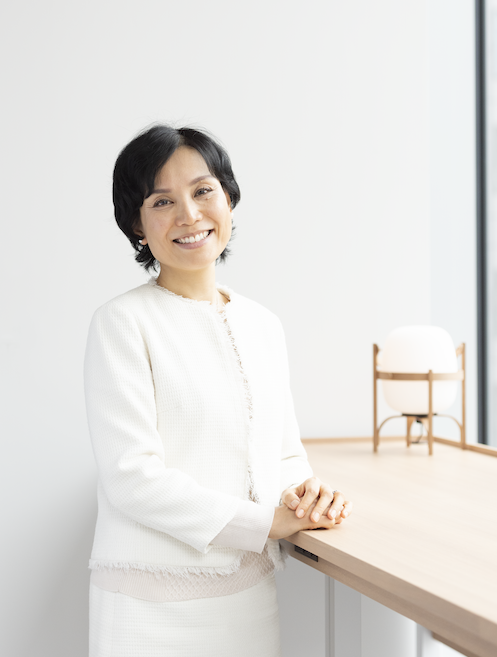 Ms. Kobayashi's passion for education began when she received a full scholarship from Keidanren to study at Pearson College UWC in Victoria, Canada. Inspired by that experience, she studied development economics at the University of Tokyo, then joined the United Nations Children's Fund (UNICEF) in the Philippines, where she worked to program non-formal education programs for street children. Ms. Kobayashi felt a strong need to develop leadership education after witnessing extreme wealth disparity firsthand. In August 2008, Ms. Kobayashi returned to Japan to develop the ISAK project, and after seven years of hard work, ISAK opened its doors in August 2014.
Educational Background: Ms. Kobayashi received her International Baccalaureate Diploma in 1993. She graduated from the University of Tokyo with a BA in Development Economics in 1998, and completed an MA in International Education Policy Analysis from Stanford University in 2005.
Awards: "100 People Who Are Rebuilding Japan 2012″ by AERA magazine; "Change-Maker of the Year 2013", by Nikkei Business; "Woman of the Year 2015" by Nikkei Woman; "Management Award of the Year 2016" by Zaikai ; "Yale Greenberg World Fellow 2017" by Yale University; "EY Entrepreneur Of The Year 2019 Japan" by Ernst & Young. Ms. Kobayashi also serves on the board of Asia Pacific Initiative since 2018, Japan Advisory Board for World Economic Forum since 2019, and UWC International Board since 2020. In 2021, she was presented with the Veuve Clicquot Bold Woman Award.