This report is our opportunity to inform and inspire our global community. Here, you will find highlights of the 2020-21 academic year and updates on how we have pursued our unique school mission.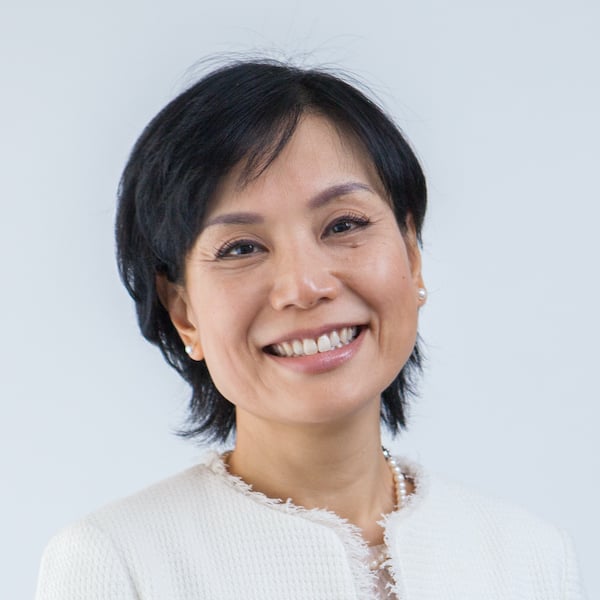 Co-Founder and Chair of the Board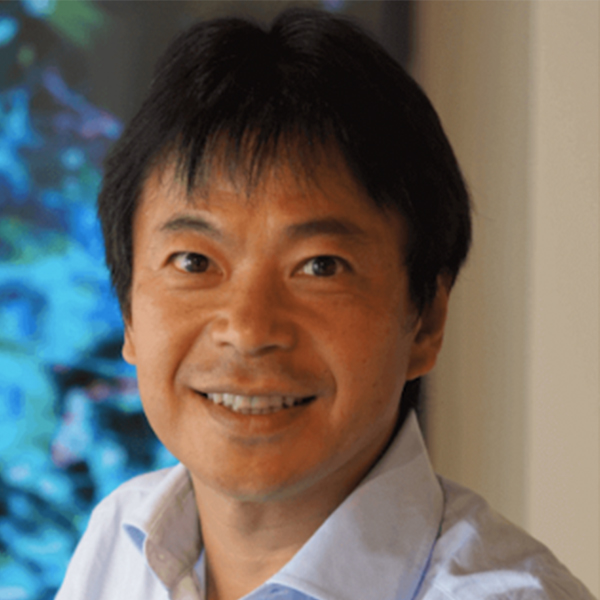 Representative Founder and Board Director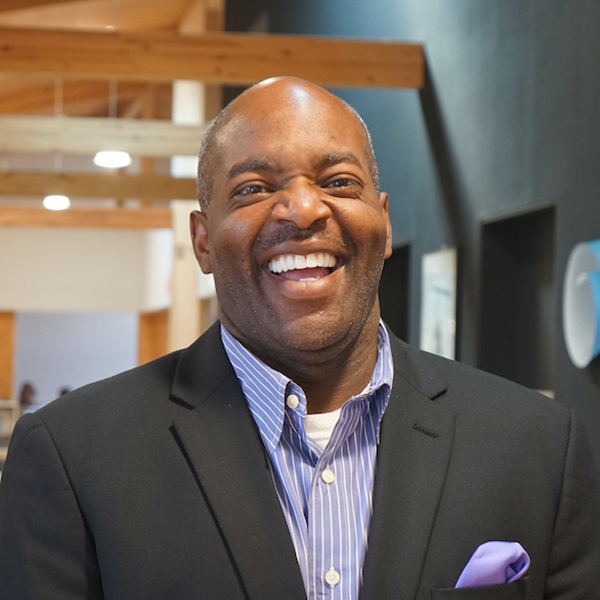 UWC makes education a force to unite people, nations and cultures for peace and a sustainable future.
At UWC ISAK Japan we empower each other to be transformational leaders who explore new frontiers and make a positive impact today and in the future.
Provided in scholarships in the fiscal year 2021-22
Of our students (approx.) received some level of financial assistance
High School students from 84 countries
Staff and Faculty from Around the World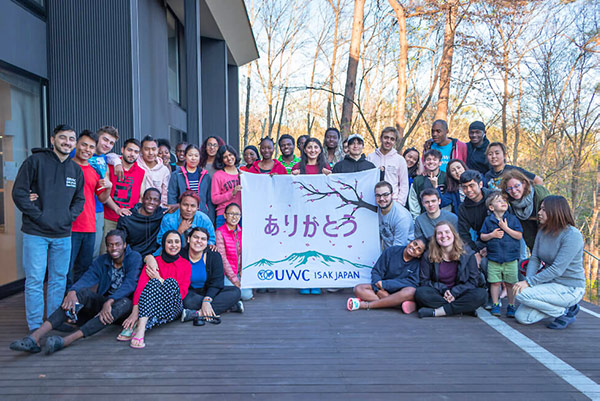 Responding to the Pandemic
The global pandemic accelerated its pace in February and March and national borders were rapidly closing. As a school, we had to rapidly respond and made the decision to send students home. It was a tremendously challenging and emotional time, but thanks to the incredible efforts of our entire community, we were able to get a large majority of our students back to their families.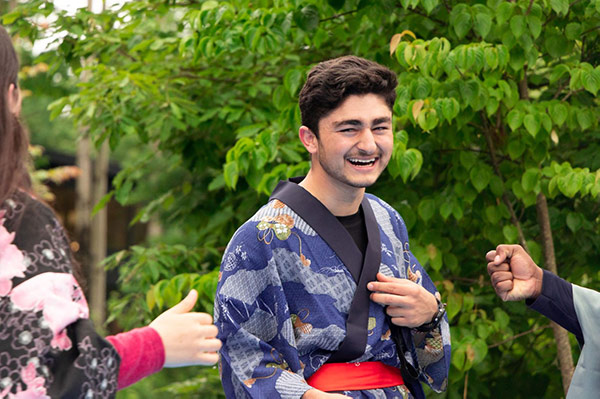 Students Spend Summer on Campus
Each summer, our campus comes to life at the end of July for our annual Summer School. However, this year's edition was cancelled for the first time ever due to the global pandemic.
While it was disappointing, around 40 high school students who were unable to return home due to travel restrictions helped us maintain an upbeat atmosphere throughout the summer as they awaited their next window to return home or head to university.
The unprecedented step of hosting such a large group of students through the summer was only possible thanks to the incredible contributions of our supporters.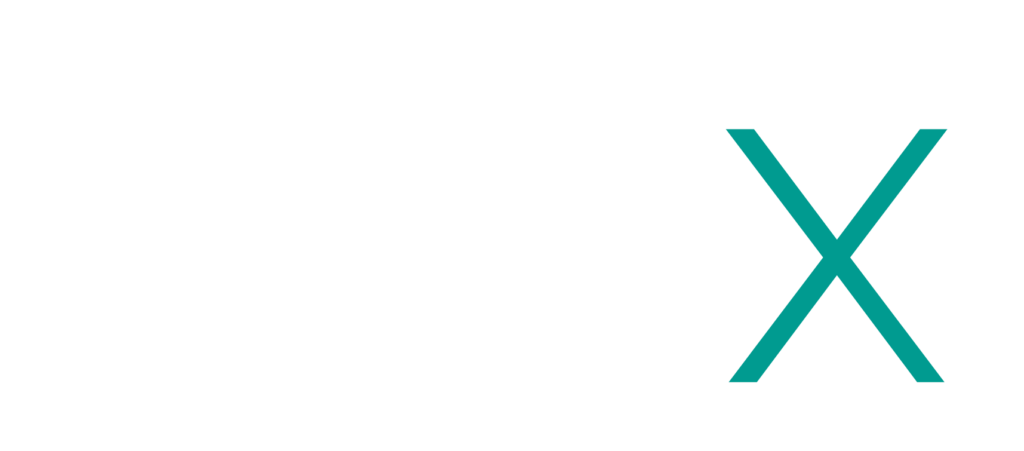 ISAKx was launched in the summer of 2020 as an online-only platform for students eager to experience the "ISAK" approach to education, but are unable to attend a program in person.
The program initially launched with 2 core courses in Exploring Leadership and Society & Politics, but by Spring of 2021 had expanded to also offer Winter and Spring Short Courses.
Despite being an entirely new and from scratch initiative, all ISAKx programs were fully enrolled and achieved nearly 100% satisfaction ratings.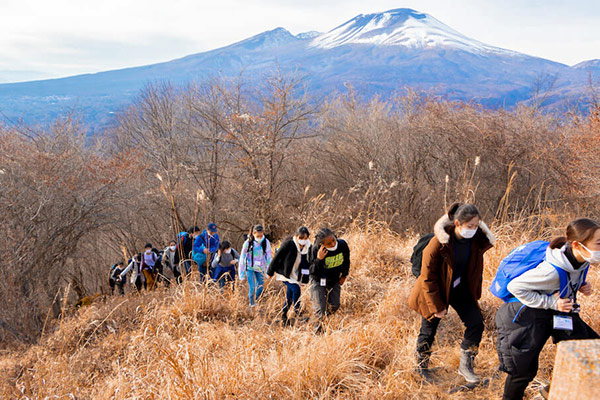 In response to the cancellation of Summer School due to pandemic-related complications, Winter School was launched to provide Summer School registrants with an onsite UWC ISAK experience.
The Winter School program introduced students to many of the same elements that Summer School is known for, such as leadership, design thinking, and diversity. In addition, many of our high school students, who were on their own winter breaks, chose to volunteer at Winter School, which gave it an even more international atmosphere.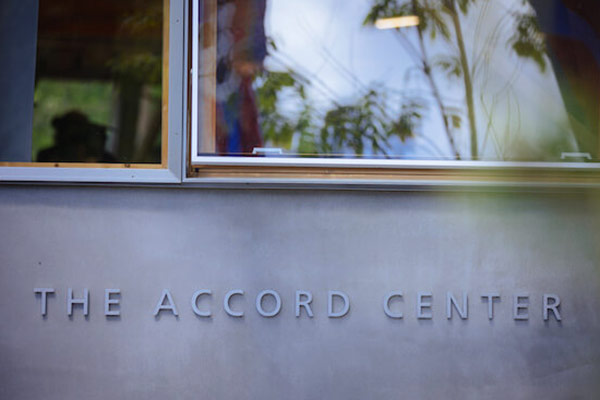 Thanks to the incredible generosity of Hitoshi Honda, one of UWC ISAK Japan's 100 Founders, The Accord Center (TAC) was opened for campus activity following the winter break.
TAC was designed as a multi-purpose facility and, depending on the configuration, adds 3 classrooms, a performance center, art gallery, banquet hall, and seminar venue to our campus. It quickly proved its incredible value to our community and was the centerpiece of much of the vital activity that took place on campus at the end of the year, including the Art Exhibition, Film Festival, Graduation Banquet, and served as the backdrop for the Class of 2021's mortarboard toss after the Graduation Ceremony.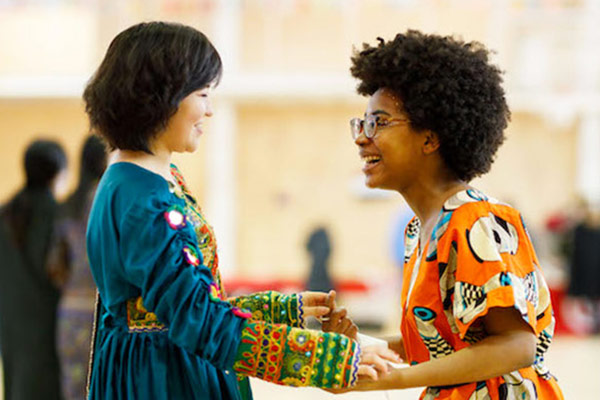 International Day Ends Lockdown
2021 started with one of the biggest challenges UWC ISAK had ever experienced: positive COVID tests. A small number of our community had caught the virus, which forced our school to implement extraordinary measures (including campus and residence lockdowns and rigorous testing) to keep our school community and the Karuizawa community safe.
Despite the hardship, we were able to endure and in early February celebrated our international diversity and the end of lockdown at International Day.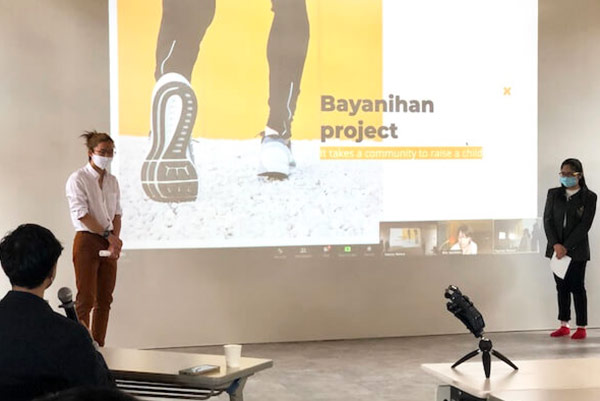 Project Week is always a special event, but the 2021 Spring edition featured something extra special: a startup pitch contest!
As part of the Grade 10 Leadership Program, students were challenged to work in teams to create their own startup business and pitch their idea to a panelist of judges, who were themselves successful entrepreneurs. The judges took their role as seriously as the student teams and the end result was an enthralling event packed with incredibly well-prepared pitches.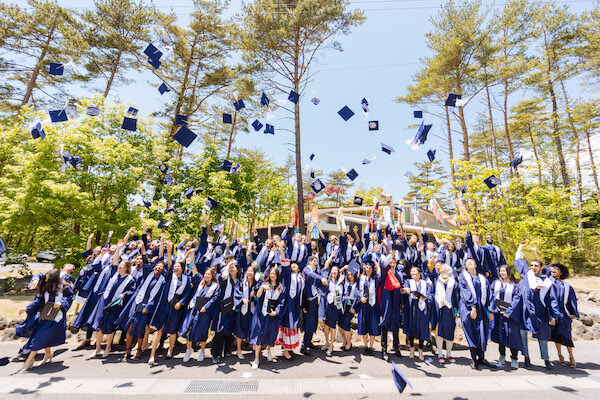 Having endured the unexpected trials of an unprecedented typhoon in 2019 and the global pandemic of 2020-21, this Class will always represent resiliency.
On May 30th, our campus was treated to one of the most beautiful days of the year for our celebration of the Class of 2021. We watched our newest grads toss their mortarboards against the backdrop of the recently christened Accord Center and bright blue sky for the most fitting of send-offs.
UWC ISAK Japan is committed to educating in a deliberately diverse environment with students from all socio-economic, cultural and religious backgrounds. To meet this commitment, we provide need-based support to 70% of our students. Furusato Nozei is the most important source for our scholarship and for 2020, we received 330,337,000 Japanese yen despite the worldwide pandemic. (95% of your donations go to UWC ISAK Japan with 5% going to the betterment of education in Karuizawa.) We sincerely appreciate your support and trust in us. Thank you very much.
Click here to view of FY2020 financial statement summary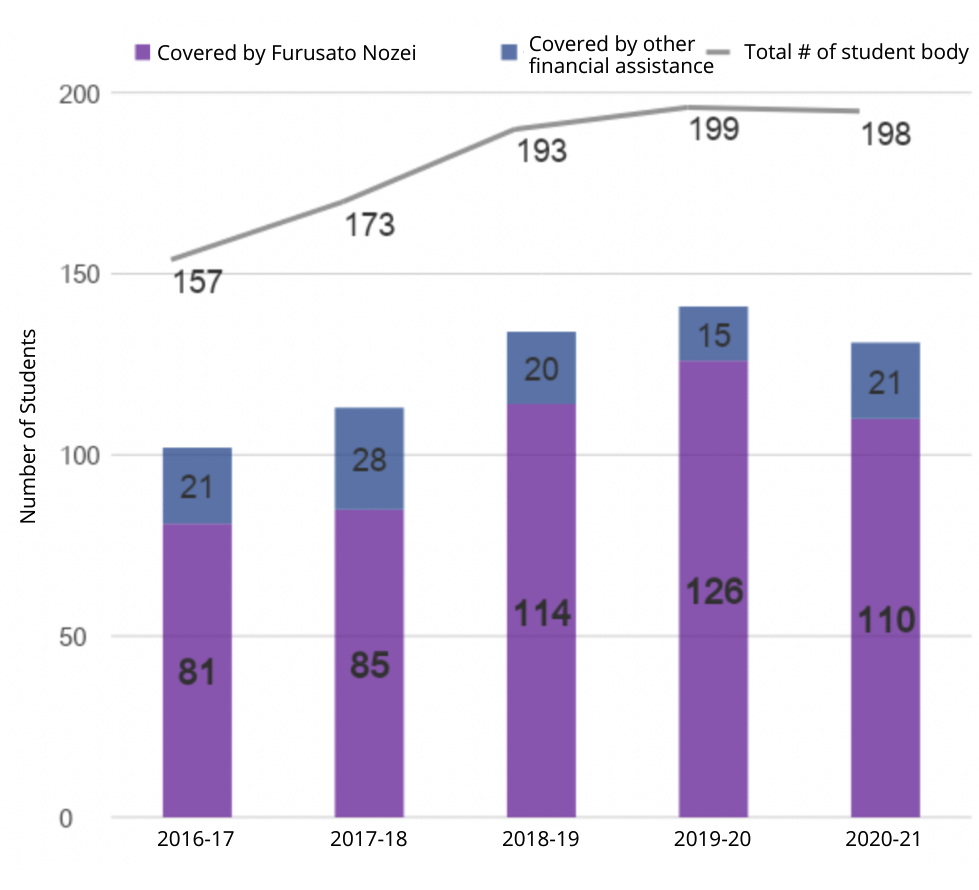 * Our students receive financial assistance fully or partially from Furusato Nozei and other sources.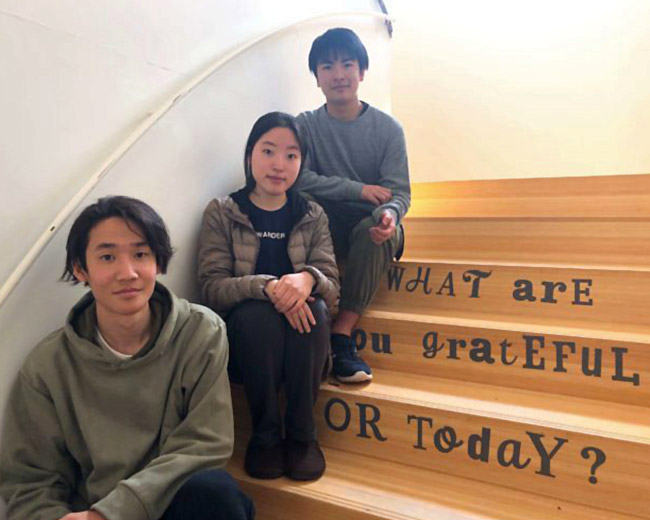 A special effort in international diplomacy earned three UWC ISAK Japan students a Changemaker Award for their work to promote constructive dialogue between the youth of Japan and Korea. The award was given to Junpei (Class of 2022 / Japan), Ichiro (Class of 2022 / Japan), and Yuina (Class of 2021 / Japan) by ESIBLA, a Japan-based organization dedicated to making inquiry-based learning with an emphasis on using English.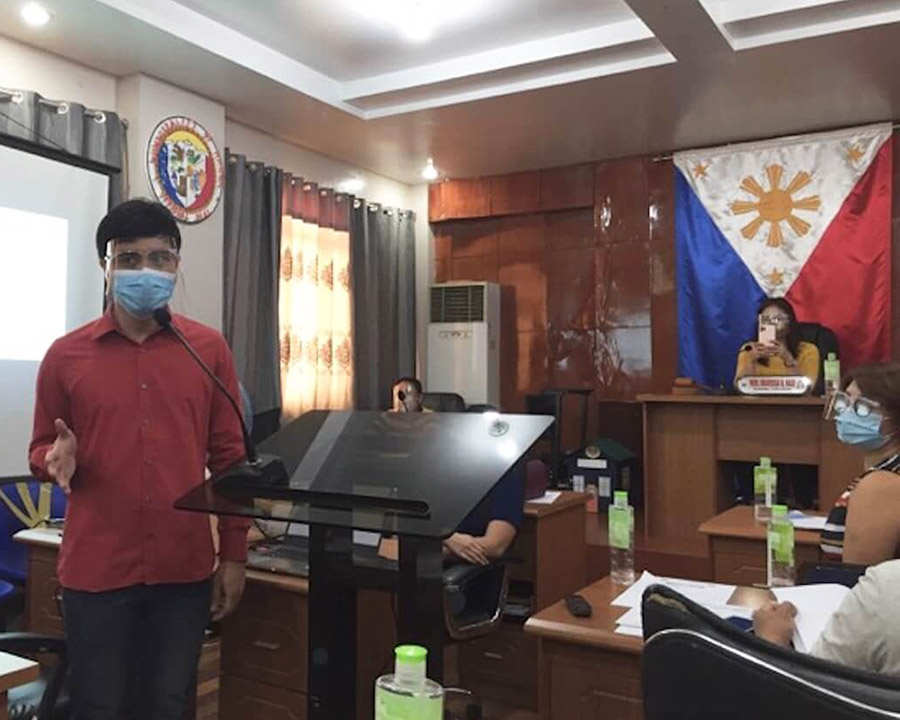 Innovation For His Community
Few would argue that 2020 was a rollercoaster of a year. For recent grad Gab Ponon (Philippines / Class of 2020), the past twelve months delivered a year with more ups and downs than he could have imagined. But a remarkable sense of resilience and positivity have carried him through the trials, and he is finding innovative ways to support his community.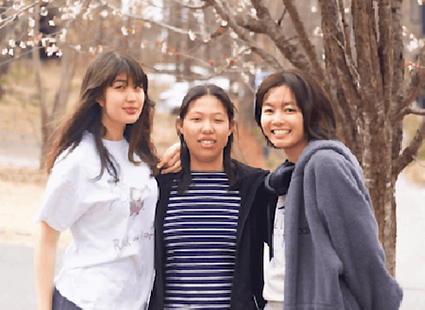 Three UWC ISAK Japan students were selected to represent Japan in a global tech competition, having bested 22 other teams of female junior- and senior-high school students to claim the national title.
Technovation is a competition for girls from all over the world to learn and apply the skills needed to solve real-world problems through technology and coding. Isabel (Italy-USA), Cathy (China), and Mana (Japan), all members of the UWC ISAK Japan Class of 2022, created a business plan around a smartphone application that supports foreigners in their transition to a peaceful life in Japan by walking them through topics including local culture, VISA applications, laws and norms.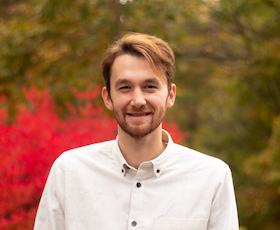 History/Social Studies and TOK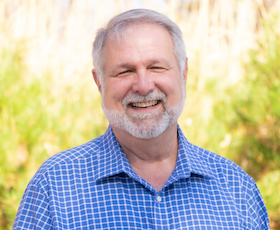 Social/Emotional Health Counselor; Interfaith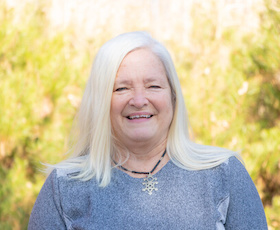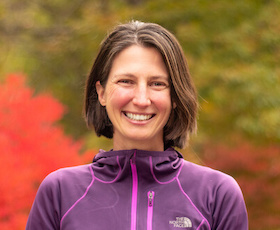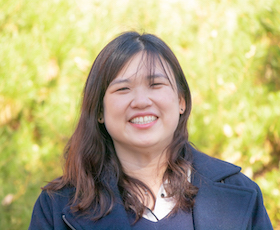 Like their children, the parents of our students embrace the UWC ISAK Japan mission and vision. We are so grateful for their support, encouragement, and trust. Click on their images below to view their video messages.
Within a few short months of being on campus, our son has gained new self-sufficient skills and gained confidence in his new ISAK life.
This school is one big family.
Not only for students, but for parents as well.
I absolutely believe, trusting my daughter in the capable hands of
UWC ISAK Japan is one of the best decisions I have made in my life.
UWC ISAK Japan is exactly the world we are living in —
it is a respectful, safe place to learn about the world.
This school is one big family.
Not only for students, but for parents as well.
I don't think you can teach these kind of things at home. It was at this moment I saw a different kid in front of me.
The generosity of our Founders, Catalyst Supporters, and donors who have made a life-changing education possible for students from around the world. Donations of every size support the mission of UWC ISAK Japan and we thank everyone who has contributed to our school. Please see the full list of our supporters here.
HIGH SCHOOL SCHOLARSHIPS
Yasushi Ando Scholarship
Junko Fukutake Scholarship
Goh Family Scholarship
Honjo Scholarship
Tomonori Ito Scholarship
Saori and Shinji Kimura Scholarship
Akira Kosugi Scholarship
Shigeru Sato Scholarship
Makiko Suehiro Scholarship
Goldman Sachs
Hoppy Scholarship
Ichigo Asset Scholarship
Neuberger Berman Scholarship Fund
YKK Holding Asia Scholarship
W&M Solar Power Scholarship*
W.L.S. Spencer Foundation
SUMMER SCHOOL SCHOLARSHIPS
Canyon Capital Japan Scholarship
HOPE Scholarship
HSBC Group Scholarship
Morgan Stanley
Nomura Holdings Scholarship
Proverbs 16:16 Scholarship
Sumitomo Mitsui Trust Bank Scholarship
UNIVERSITY SCHOLARSHIPS
The Nippon Foundation Scholarship
Davis-UWC Scholars Program
GUEST SPEAKER SESSION
ABLE, Inc.
PROGRAM SUPPORTERS
Mizuho Financial Group, Inc.
PRO BONO SUPPORTERS
Agos Japan Corporation
airweave, Inc.
IDEO Tokyo
LIXIL Group Corporation
Morrison and Foerster, LLP
Panasonic Corporation
SECOM Co., Ltd.
TMI Associates
Evergreen Tax Accountant Corporation
*Proceeds from the sale of electricity generated by solar equipment purchased with donated funds are being used to fund scholarships.
AUSTRALIA
University of Melbourne
University of Monash
University of Queensland
University of Sydney
CANADA
Carleton University
Concordia University
Langara College
McGill University
Mount Allison University
Queen's University
Quest University
St. Thomas University
University of British Columbia
University of Toronto
GERMANY
University of Mannheim
HONG KONG
Savannah College of Art and Design University (Hong Kong)
INDIA

Flame University
JAPAN
Asia Pacific University
International Christian University
Kanazawa University
Keio University (GIGA)
Keio University (PEARL) Kyushu
Nagoya University of Commerce and Business
Rikkyo University
Shibaura Institute of Technology
Sophia University
Tokyo International University
Musashino Art University
Okayama University
Ritsumeikan University
Waseda University
KAZAKHSTAN
KIMEP University
NETHERLANDS
Amsterdam University College
Erasmus University College
Erasmus University, Rotterdam School of Management
Radboud University Nijmegen
Universiteit Leiden
University of Amsterdam
University of Groningen
University of Maastricht
University of Twente
Utrecht University
OMAN
Sultan Qaboos University
SINGAPORE
Yale NUS
THAILAND
Faculty of Medicine Ramathibodi Hospital at Mahidol University
Faculty of Medicine, Chulalongkorn University
UNITED ARAB EMIRATES
New York University Abu Dhabi
UNITED KINGDOM
Abertay University
SOAS, University of London
King's College London
Queen Mary University
University College London
University of Bath
University of Bristol
University of Dundee
University of Durham
University of Edinburgh
University of Exeter
University of Sheffield
University of Manchester
University of St. Andrews
University of The Arts London
UNITED STATES
Babson College
Bard College
Bates College
Bennington College
Boston University
Brown University
Carleton College
Carnegie Mellon University
Case Western Reserve University
Clark University
Colby College
Colorado College
College of Idaho
College of the Atlantic
Cornell University
Drexel University
Earlham College
Furman University
Georgetown University
Kalamazoo College
Lewis & Clark College
Lake Forest College
Loyola Marymount University
Luther College
Macalester College
Methodist University
Middlebury College
Minerva Schools at KGI
New York University
Northeastern University
Nova Southeastern University
Occidental College
Pitzer College
Randolph Macon College
Ringling College of Art and Design
Sarah Lawrence College
Savannah College of Art and Design
School of the Museum of Fine Arts (SMFA) at Tufts University
Santa Clara University
Skidmore College
Smith College
St. Olaf College
Tufts University
Trinity College
Union College
University of Chicago
University of California – Berkeley
University of California – Davis
University of Maine
University of Oklahoma
University of Pennsylvania
University of Pittsburgh
University of Rochester
University of Southern California
University of Utah
University of Washington
Vanderbilt University
Washington and Lee University
Wellesley College
Wheaton College
Whitman College
Williams College
Worcester Polytechnic Institute
Yale University
VIETNAM
RMIT University Vietnam
GAP YEAR
Semester at Sea
Global Citizen Year
Canada Conservation Corps
HONORARY ADVISOR
Her Imperial Highness Princess Takamado
BOARD OF DIRECTORS
Lin Kobayashi (CHAIR)
Mamoru Taniya
Roderick Jemison
Hidehiro Imatsu
Masahiro Koshiba
Paul McInerney
Shusaku Minoda
Kotaro Yamagishi
Kimiya Yamamoto
ADVISORY BOARD
Nobuyuki Idei (CHAIR)
David Katsujin Chao
Heang Chhor
Yasuchika Hasegawa
Takashi Kawamura
Kakutaro Kitashiro
Kan Suzuki
Fumio Tateishi
STATUTORY AUDITOR
Yasushi Ando
Kenji Hosokawa
Naoki Tamura
COUNCILS
Hidehiko Hayashi (CHAIR)
Heang Chhor
Kenji Govaers
Yasushi Hatakeyama
Hitoshi Honda
Ryusuke Honjo
Hiroshi Ito
Roderick Jemison
Lin Kobayashi
Yojiro Koizumi
Hiroko Kono
Masahiro Koshiba
Mariko Magnan
Thomas Miller
Shusaku Minoda
Suguru Miyake
Elizabeth Oswald
Jennifer Paddock
Shigeru Sato
Toru Shimada
Makiko Shinoda
Norio Takamatsu
Shotaro Tanaka
Mamoru Taniya
Koki Uchiyama
Yasuhiro Wakebayashi
Kimiya Yamamoto
Masakazu Yanagisawa
Charlotte Yew
FOUNDERS
(listed by date of contribution)
Mamoru Taniya
Lin and Shigetoshi Kobayashi
Yuriko Takahashi
Kimiya Yamamoto
Masakazu Yanagisawa
Rika Aoi
Fumio Tateishi
Michiyo and Hidehiko Hayashi
Hiroko Kono
Hidehiro Imatsu
Fumiko Ozawa (Kanenobu)
Brian Nelson
Masahiro Koshiba
Masaru Kojima
Einosuke Yoshino
Gen Kato
Takashi Inoue
Shotaro Tanaka
Takashi Murata
Makoto Takano
Takeshi Natsuno
Hiroaki Mizutani
Shogo Kawada
Teruhide Sato
Kohei Matsuki
Nobuyuki Idei
Kakutaro Kitashiro
Tomoharu Inoue
Tomonori Ito
Kotaro Yamagishi
Heang Chhor
Eiichi Miyazawa
Amane Nakashima
Yasuro Koizumi
Ogawa Scholarship Foundation
Hideki Kinuhata
Ichiro Miyake
Ryusuke Honjo
Edward Suzuki
Yuichiro Sugahara
Haruhiro Tsujimoto
Shin Horie
Ken Takayama
Koichi Saura
Ishibashi Foundation
Katsunori Sago
Masakazu Iwakura
Haruki Kamiyama
Masatada Kobayashi
Kazutoshi Kobayashi
Mariko and Jacques Magnan
Kaji Family
Shigeru Sato
Takeda Pharmaceutical Co., Ltd.
Taizo Hasebe
Shinichiro Okumoto
Junko Fukutake
Hitoshi Honda
Terumi and Yojiro Koizumi
Yasushi Ando
Hiroyuki Arita
Mikiko and Toshio Iwasaki
Noriko Yamaguchi
Seiji Yasubuchi
Shinji Kimura
Shusaku Minoda
Toshio Himuro
Nonaka Institute of Knowledge
Hoppy Mina Co., Ltd.
Okada Memorial Club
Ichiro Kawanabe
Shuhei Morofuji
Suguru Miyake
United Managers Japan Inc.
Akiyuki Nagase
Yoko Takai
Makiko Suehiro
Keizo Fujitake
Shinji Yoshizawa
Koki Uchiyama
Yasuhiro Wakebayashi
Mei Yu
Takahisa Fujitake
Jun Furukawa
Toru Shimada
Nobuo Sayama
Hitoshi Kashiwaki
Ayako Yoshida
(Masako and Hiroshi Sasaki)
Yi Shi
Paul and Maki McInerney
Takashi Kawamura
United States-Japan Foundation
Yasushi Fujita
Muneaki Masuda
Maki and Yasu Hatakeyama
Masahisa Ikeda
Tsuguhiko Kadokawa
Ken Aoyama
CATALYST SUPPORTERS
(listed by date of contribution)
Yasumasa Manabe
Naruatsu Baba
Satoru Oshita
Xiaolei Sun
Yew Lin Goh
YKK Holding Asia Pte Ltd.
Takeshi Tanaka
Yoshiaki Fujimori
Junko Mori
Haruo Nakamura
Akira Kosugi
Genki Shiota
Tamotsu Kosano
Ryo Ohira
Riso Kyoiku Iwasa Foundation
Hattori International Scholarship Foundation
Ryo Abe
Takahiro Sugawara
Hiroyuki Watanabe
Hikaru Shimura
Shinichi Yamamoto
Yuki and Makoto Arima
Koichiro Hashimoto
Mizuho Financial Group, Inc.
Tatsuya Hayashi
Byking Inc.
Ken Tamagawa
Kenji Govaers