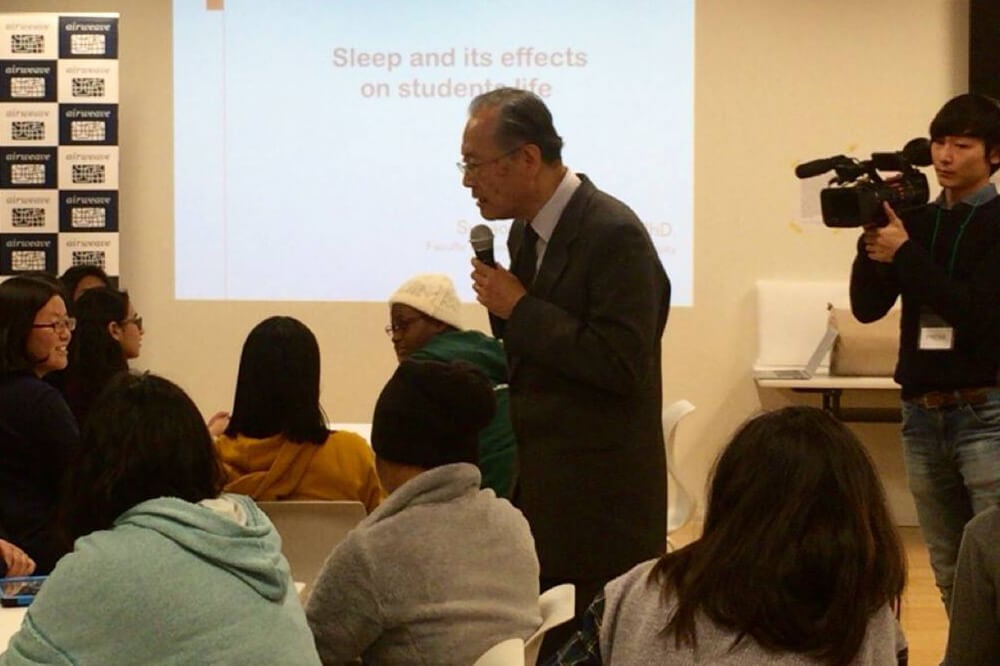 ※英文のあとに和文を掲載していますので、スクロールしてお読みください。
Thanks to our generous donor, Airweave, who donated 350 special mattresses to ISAK, our students typically get a good night's sleep. But just how important is sleep for daily life? Professor Sunao Uchida, from Waseda University, shared the science, latest research and theories about sleep with ISAK students in an informative seminar last week. The presentation was interesting and reminded everyone that sleep is essential for brain function and productivity in the classroom.
A local TV station, NHK, filmed part of the presentation and interviewed some of the students about what they learned. One of our students commented, "I was surprised to know that the sleep cycle of the athletes are different from other people like us. I was always curious to learn how our brain works, so this seminar was very interesting to me. I usually stay up late, but decided to go to bed early and wake up early as well from now on!"
Thank you, Professor Uchida, and Airweave for visiting our campus and sharing your knowledge with all of us!
[エアウィーヴ様による睡眠セミナー]
昨晩、ISAKのドナーであるエアウィーヴの皆様が、ISAKの生徒たちのために「睡眠セミナー」を開いてくださいました。早稲田大学よりお越しくださった内田直先生は、非常に興味深い研究や理論について教えてくださり、生徒たちは睡眠の量と質がいかに私たちの生活に影響するかを学ぶことができました。
この場をお借りして改めて、ISAKの生徒全員のためにマットレスをご寄付くださり、このような有意義なセッションを開催してくださったエアウィーヴの皆様に、心から御礼申し上げます。
https://airweave.jp/