UWC ISAK Japan hosted guests from Japan and around the world for an action-packed, celebratory opening ceremony weekend!

Japanese Press Release – UWC ISAK Japan Opening Ceremony
English Press Release – UWC ISAK Japan Opening Ceremony
Here is a recap of the weekend's events:
DAY ONE – SATURDAY, SEPTEMBER 23, 2017
ARRIVAL AND CHECK IN
Guests began arriving just before 9am on Saturday. It had rained the night before, but serendipitously, the sky cleared as the first taxis and shuttles began pulling up to the Kamiyama Academic Center. Out front, student volunteers provided check in service and handed out maps, schedules, and school information to guests. It was an amazing privilege to greet guests who had traveled from far flung places including Zimbabwe, Italy, South Korea, Greece, the United States, UK, India, China, and Germany.
[wonderplugin_carousel id="9″]
MORNING SPEECHES
The ceremony opened in the UWC ISAK Japan gym, with a stirring speech from Ms. Lin Kobayashi, UWC Pearson alumna and UWC ISAK's founder and Chair of the Board. Ms. Kobayashi shared how her UWC experience and a trip to Mexico City with a classmate helped define her life's purpose and ultimately lead to the founding of UWC ISAK Japan.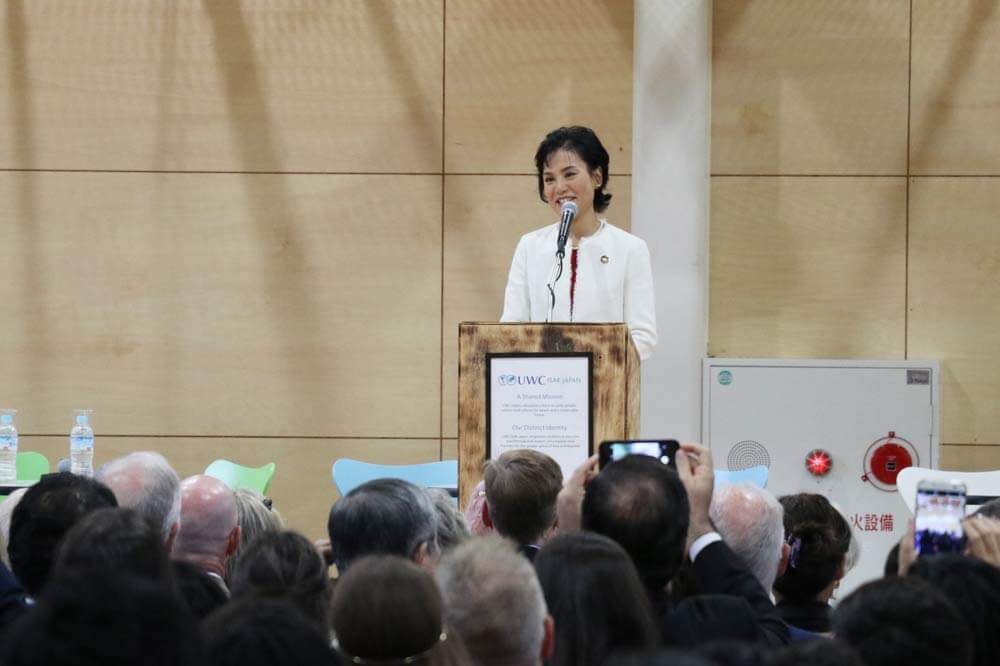 Ms. Kobayashi's speech was followed by an address from Susumu Fujimaki, Mayor of Karuizawa Town, who emphasized how much the citizens of Karuizawa welcome students from around the world and how much the city has benefited from this newfound diversity.
In his address, Sir John Daniel, Chair of the UWC International Board, recognized the extraordinary contributions made to UWC ISAK Japan by all 100 Founders and then presented an engraved gold founders plate to Ms. Kobayashi and Mr. Mamoru Taniya (UWC ISAK Japan's Representative Founder).
UWC Founders Award
Mamoru Taniya and Lin Kobayashi and the 100 founders of UWC ISAK Japan
for their dedication to the UWC Mission and bringing UWC education for empathy and leadership to Japan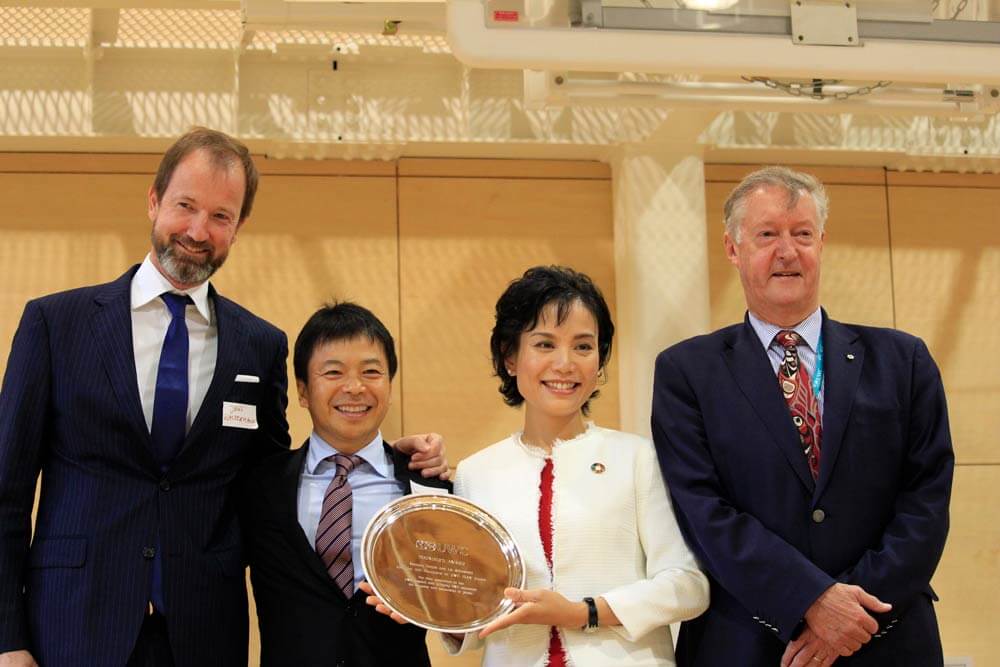 The final speech of the morning was given by honorary guest, H.R.H. Princess Raiyah bint Hussein of Jordan. Princess Raiyah, a graduate of UWC Atlantic College, discovered her passion for Japanese language and culture after traveling to Japan with a UWC schoolmate. She went on the earn a B.A. in Japanese and is currently working toward a Ph.D in Asian Languages and Cultures at UCLA. The Princess also read a congratulatory message from her mother, Queen Noor, President of UWC.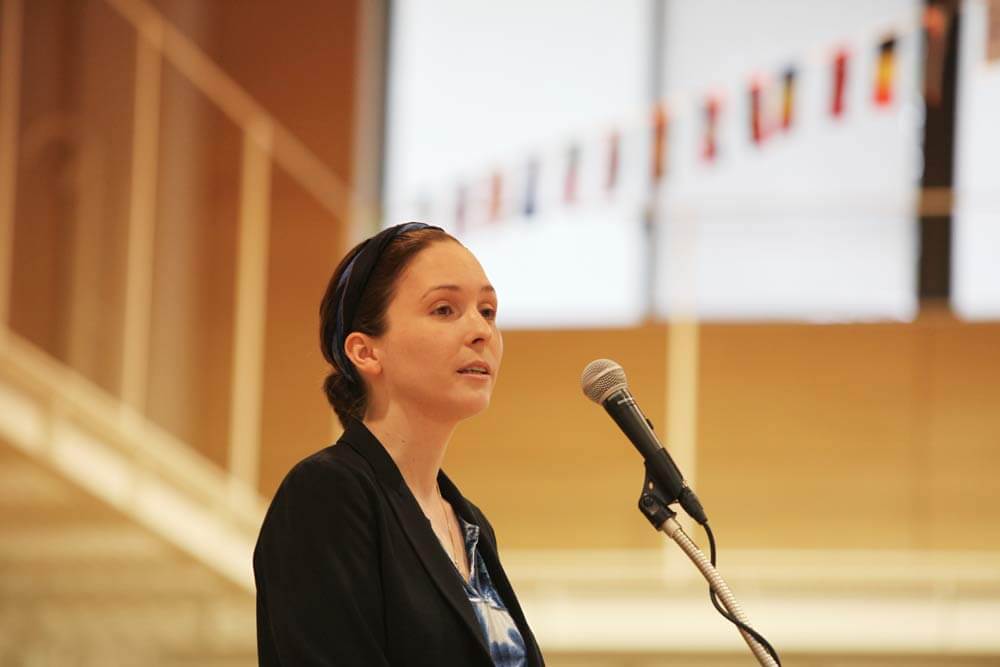 WHAT DOES IT MEAN TO BE UWC?
Following the morning's speeches, UWC ISAK Japan's deputy head of school facilitated a lively round-table discussion featuring Head of School, Mr. Roderick Jemison, UWC Executive Director, Jens Walterman, English teacher, Simone Sgarbossa, and students Zoe (Cayman Islands, Class of 2018) and (Alina, Singapore, Class of 2018). An audience Q & A followed with Mr. Waltermann fielding many questions about the challenges and opportunities facing the UWC movement.
[wonderplugin_carousel id="11″]
CAMPUS TOURS & LUNCH ON THE TERRACE
Upon leaving the gym, guests were met by groups of student tour guides who gave visitors a look around campus including a peek into a few residences. From Honda Field, it was possible to get a brief glimpse of Mt. Asama through the lingering mist. Next, it was time for lunch and a chance for UWC guests to catch up with each other and meet UWC ISAK Japan founders, faculty and staff.
[wonderplugin_carousel id="14″]
STUDENT PRESENTATIONS
Following lunch, guests headed upstairs in the Asama building for small group presentations from UWC ISAK Japan students.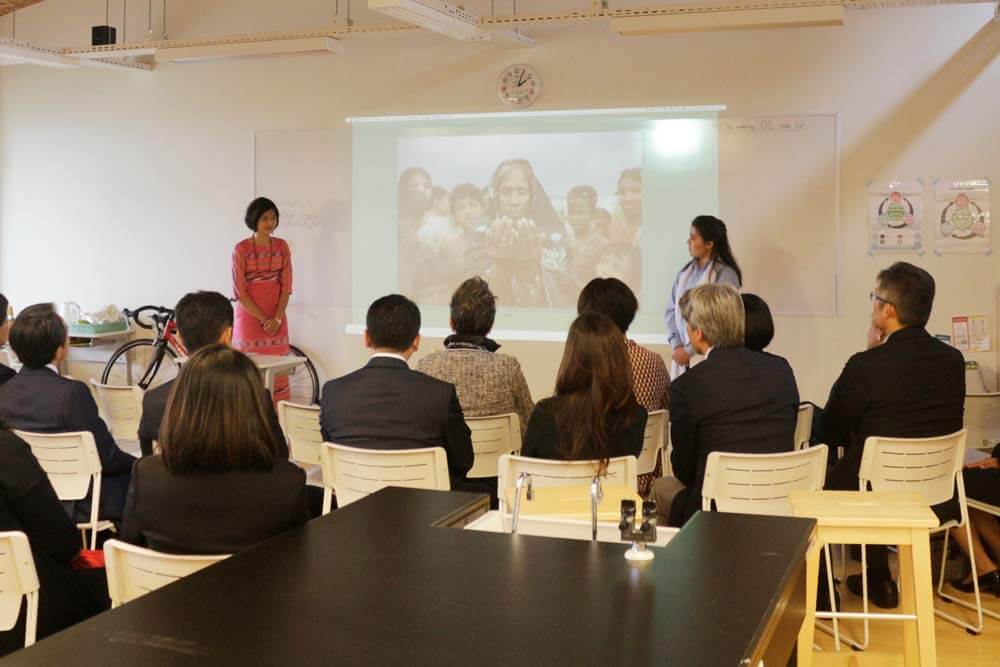 Students shared about their journeys to UWC ISAK Japan, snippets of daily life, and ways they are creating positive change at school and in the community. It was a great chance for guests to learn about UWC ISAK Japan from the students' perspective.
BIG SHODO AND A BIG SURPRISE!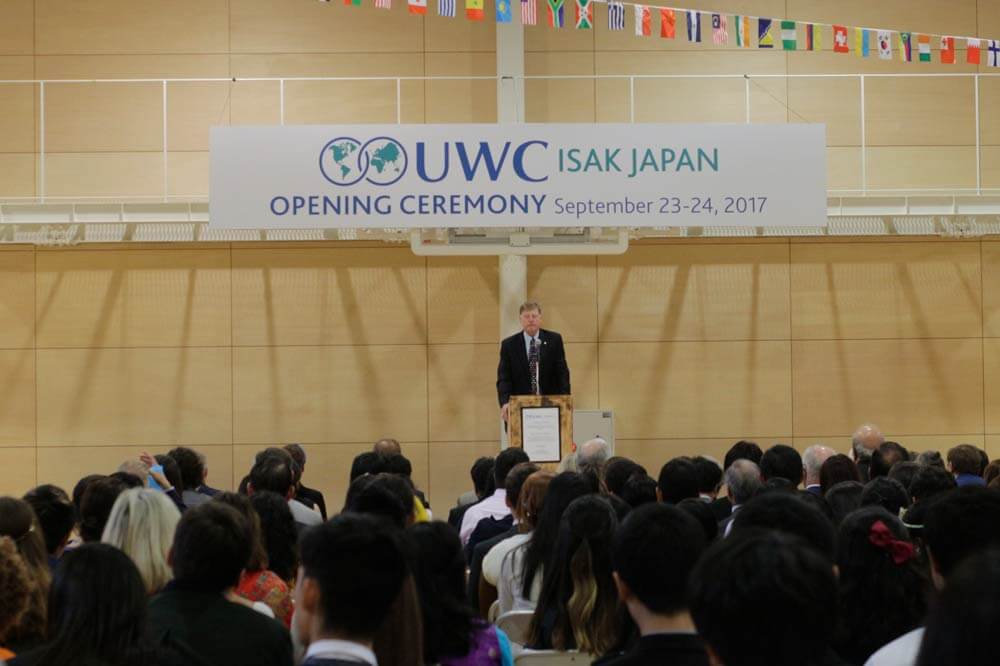 The afternoon session began with a big surprise. Former UWC USA President Phil Geier took the stage to introduce honored guest, Mr. Shelby Davis. Mr. Geier then announced that Shelby Davis would be giving $1 million in matched funding to UWC ISAK Japan in honor of the opening ceremony!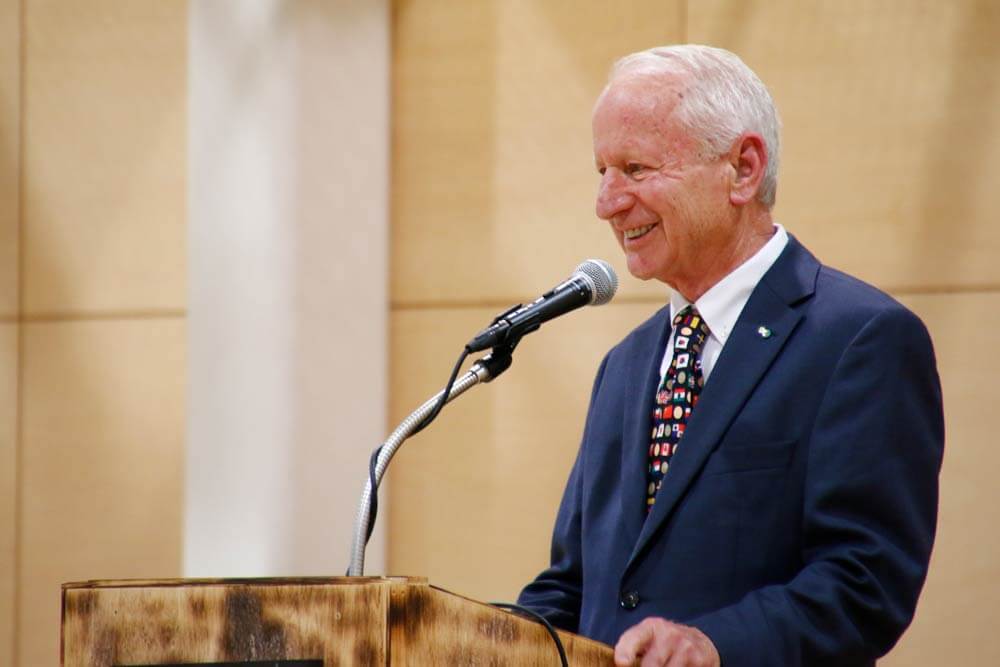 Mr. Davis spoke for a few minutes about his life and what motivated him to become UWC's biggest philanthropist. He received a standing ovation from the appreciative crowd. Following Mr. Davis' speech, a team of UWC ISAK Japan students put on a big shodo performance, creating a giant calligraphy "thank you" to show their love and gratitude to Mr. Davis for his tremendous support of UWC.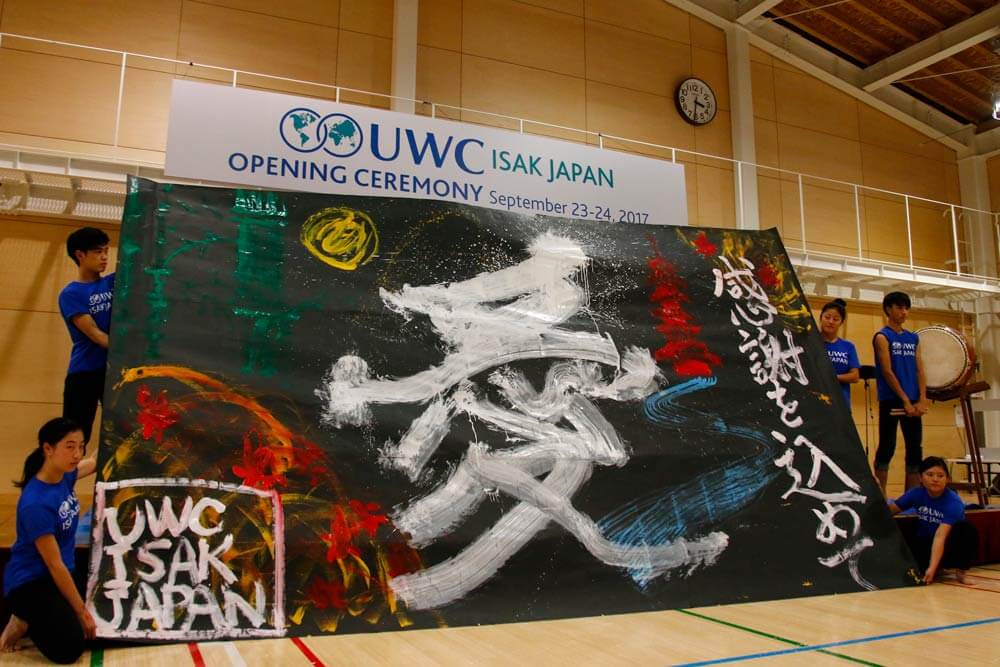 The afternoon session's closing remarks were made by Jill Longson, Vice Chair of the UWC International Board. Ms. Longson graciously thanked Lin Kobayashi, Mamoru Taniya, and the 100 founders who have been instrumental in supporting the UWC ISAK Japan. She also acknowledged the government of Japan, especially Nagano Prefecture, for cooperating with the founders throughout the process of launching the school.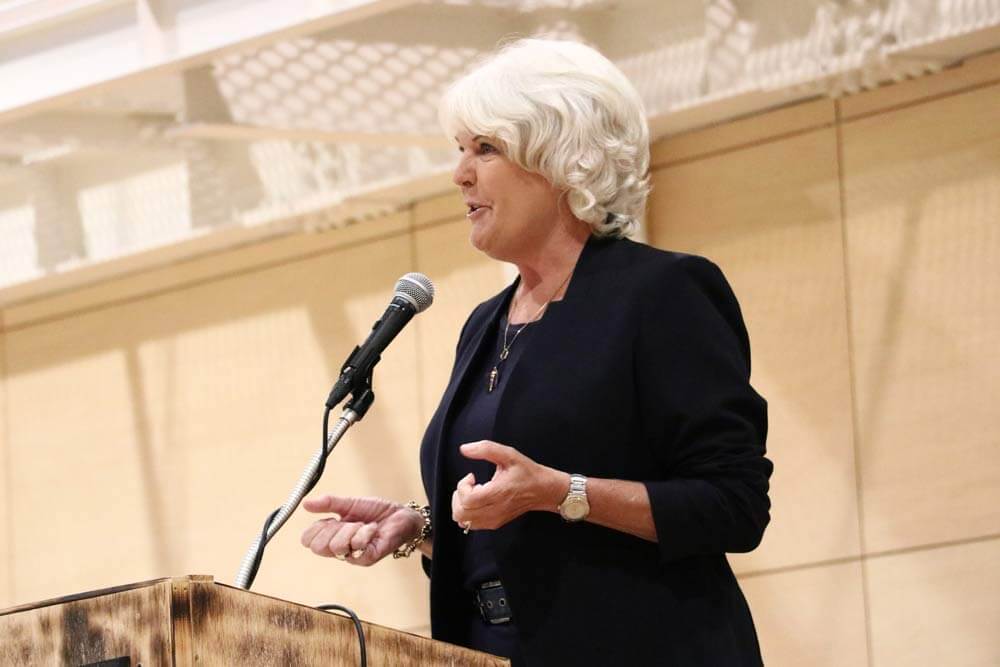 DINNER CELEBRATION FOR SPECIAL GUESTS 
Saturday night was a special chance for guests to celebrate with a dinner at the Naka-Karuizawa Country Club. They were also addressed by Colin Habgood and Arnett Edwards, members of the UWC ISAK Japan task force who recommended the school join the UWC movement. In their closing address, both Habgood and Edwards expressed that when reviewing ISAK's application to be a UWC school, they were amazed by how much the school's values were in line with UWC's core mission, such as providing scholarships to summer school students, which highlighted its commitment to providing an education to diverse populations.
[wonderplugin_carousel id="12″]
DAY TWO – SUNDAY, SEPTEMBER 24, 2017
JAPANESE CULTURAL EXCURSION
Sunday started with a Japanese cultural session at the Minamigaoka Club. Nearly 80 guests, staff and faculty were treated to a Ryurei-style tea ceremony prepared by the club's tea hostess, her daughter (who is a UWC graduate) and  a few of our very own students! Following a lovely stroll in the garden, everyone settled down to watch a Noh performance specially performed by some of our founders.
[wonderplugin_carousel id="13″]
KANPAI!
After returning to campus, guests gathered in the cafeteria to hear from Representative Founder, Mr. Mamoru Taniya and Mr. Suichi Abe, governor of Nagano. The speeches were followed by a congratulatory toast to UWC ISAK Japan. Kanpai! 
SONGS, GIFTS & GRATITUDE
To cap off the weekend, our students put together a mini-concert that showcased their cultural heritage. We had a range of performances ranging from the traditional Japanese dance, Matsu no Midori, to a hula dance to even Bossa nova! Our guests had a lot of fun clapping along to the captivating performances.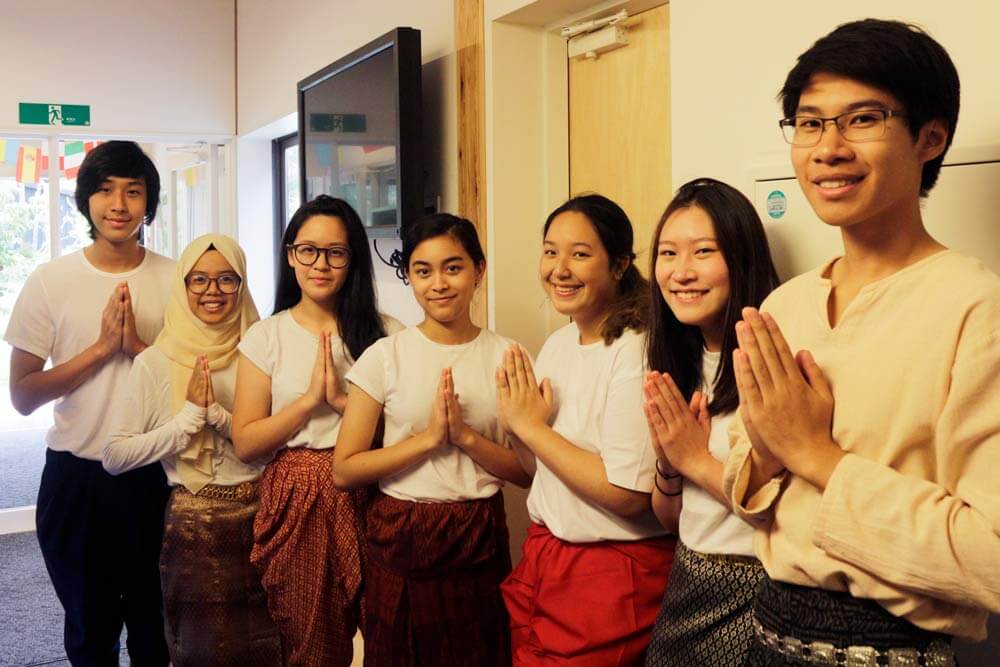 After the performances, we shared a beautiful compilation of the video messages we had received from other UWCs around the world:
[arve url="https://youtu.be/eSRVeI9DoHA" /]
Then, as a surprise, head of UWC Pearson College, Desiree McGraw, and UWC Pearson College alum, Kohtaro Kosugiyama, thanked our co-founder, Lin Kobayashi, herself a UWC Pearson College alum, for bringing the UWC mission to Japan, and presented her with a gift. As explained by Mr. Kosugiyama, the patterns on the side borders of the print represent First Nations, and the maple of the Canadian flag and the sun of the Japanese flag, encircled by the rings of the UWC logo, symbolize the friendship between the two colleges.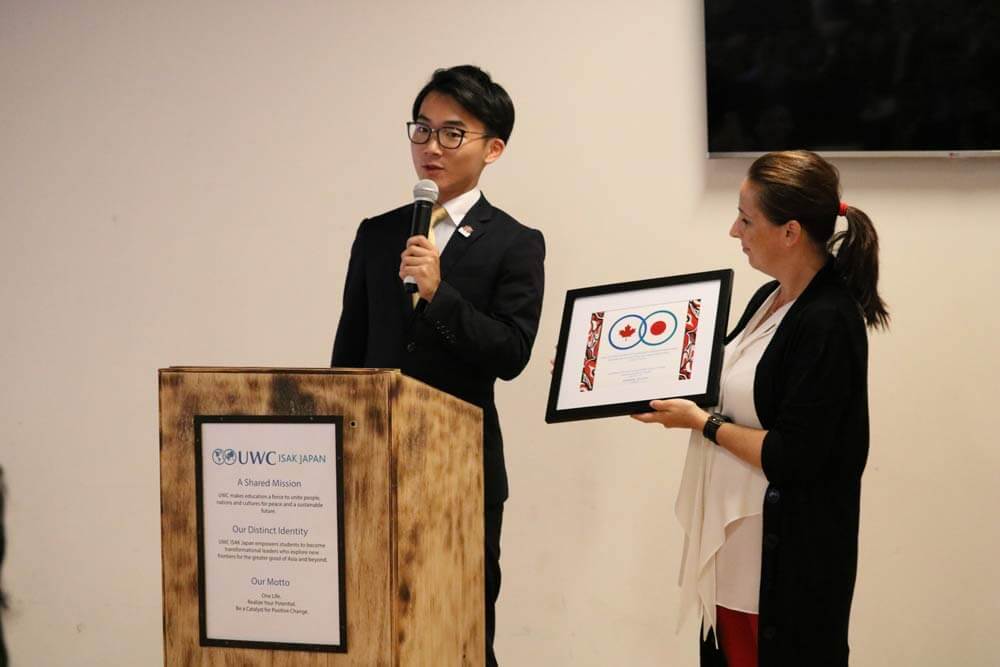 After the presentation, UWC ISAK Japan students also shared their thanks for all of the opportunities given to them through a UWC education and with that, our official opening ceremony came to an end with lots of gratitude and even a few tears.