Last Saturday, the entire ISAK G-10 class took a field trip to the town of Shimonita, located in the Gunma province, southeast of Karuizawa. The trip was arranged and sponsored by the Shimonita Tourist Association, which provided transportation and guides for the group throughout the day!
Two large tour buses arrived to pick up students and faculty at 8:30am sharp. After traveling through the mountains into Gunma province, the group headed up into the hills to visit the famous Arafune cold storage site, which is a World Heritage Cultural site. A 20 minute steep, downhill hike led to the remains of the old buildings – three stone constructions that sit at the base of a narrow, rocky ravine. The unique geography funnels cold air from the slopes above into the buildings, which helps to maintain a cold temperature year round. Even in their dilapidated state, the inner temperature in the buildings was just 1C while outside it was 12C! Students learned that these early "refrigerators" were used to support the silk industry during the Meji period. Silk worm eggs were kept in cold storage in the facilities.
After hiking back up to the buses, the tour continued to Kozu Farm, the oldest dairy farm still in operation in Japan. Here the students enjoyed locally produced ice-cream and visited some adorable week-old calves.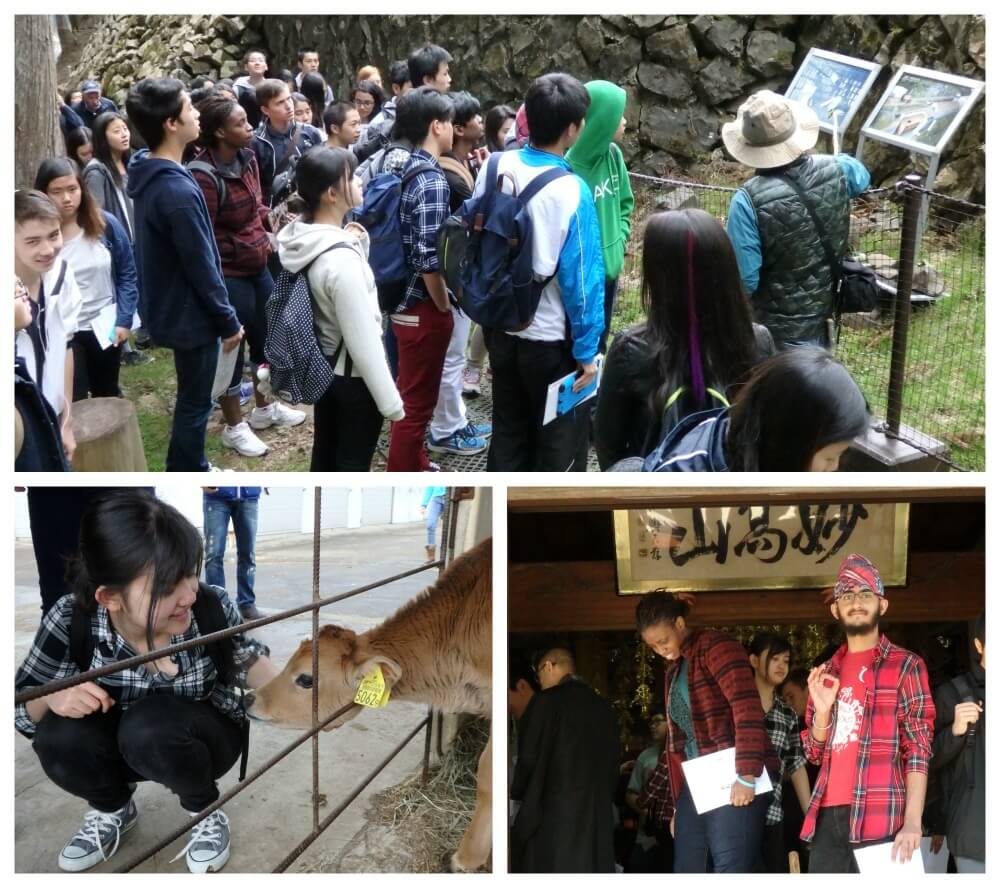 The tour then proceeded down into the valley to a restaurant, where they ate 'konnyaku', a type of jelly made from a large underground corm which is sliced, dried, powdered. It has almost zero calories but a lot of goodness. From there it was time to visit nearby Eijuji Temple, where the group was guided in Zen meditation by two monks – learning to sit cross-legged, backs straight and counting breath with eyes open. Some students received blows from the monks large stick.
The final stop was a nearby onsen where students had an hour to enjoy the hot waters of the small inside and outside pools and sauna.
A heart-felt thank you to the Shimonita Tourist Association for giving our students a day filled with Japanese experiences!