Back in June, we cheered as our inaugural class received their diplomas. Now these same students have started the next chapters in their lives. Many are already attending classes at colleges and universities in 13 different countries and a few are working or taking a gap year. We recently reached out to the Class of 2017 and asked if they had any advice for current UWC ISAK Japan students. We received many great pieces of advice and want to share a few here:
"Seriously, IB has helped me out not only for my university application, but has taught me so much and has prepared me lots for the things that I am doing now. People do not see me as a simple young teenage boy, but thanks to CAS and rugby, I've been able to talk and negotiate with adults in the society, show respect and get respected. Just don't take the experience, the tough work and bonds with your classmates, every moment, for granted. Suck it in as an experience to grow. Feel what you're learning there :)"
– Wataru
"Transitioning into college has been a challenge, and I had to make lots of choices and decisions. The fact that I will have to live by that decision scared me to the point that I couldn't really decide. And cliche as it may sound, focusing on what's most important to me really helped me make those decisions. When you get to your university/college, you will be so happy that you took IB. Bear through it for now and it will definitely pay off big time. Canada is a great place to study as well."
– Karma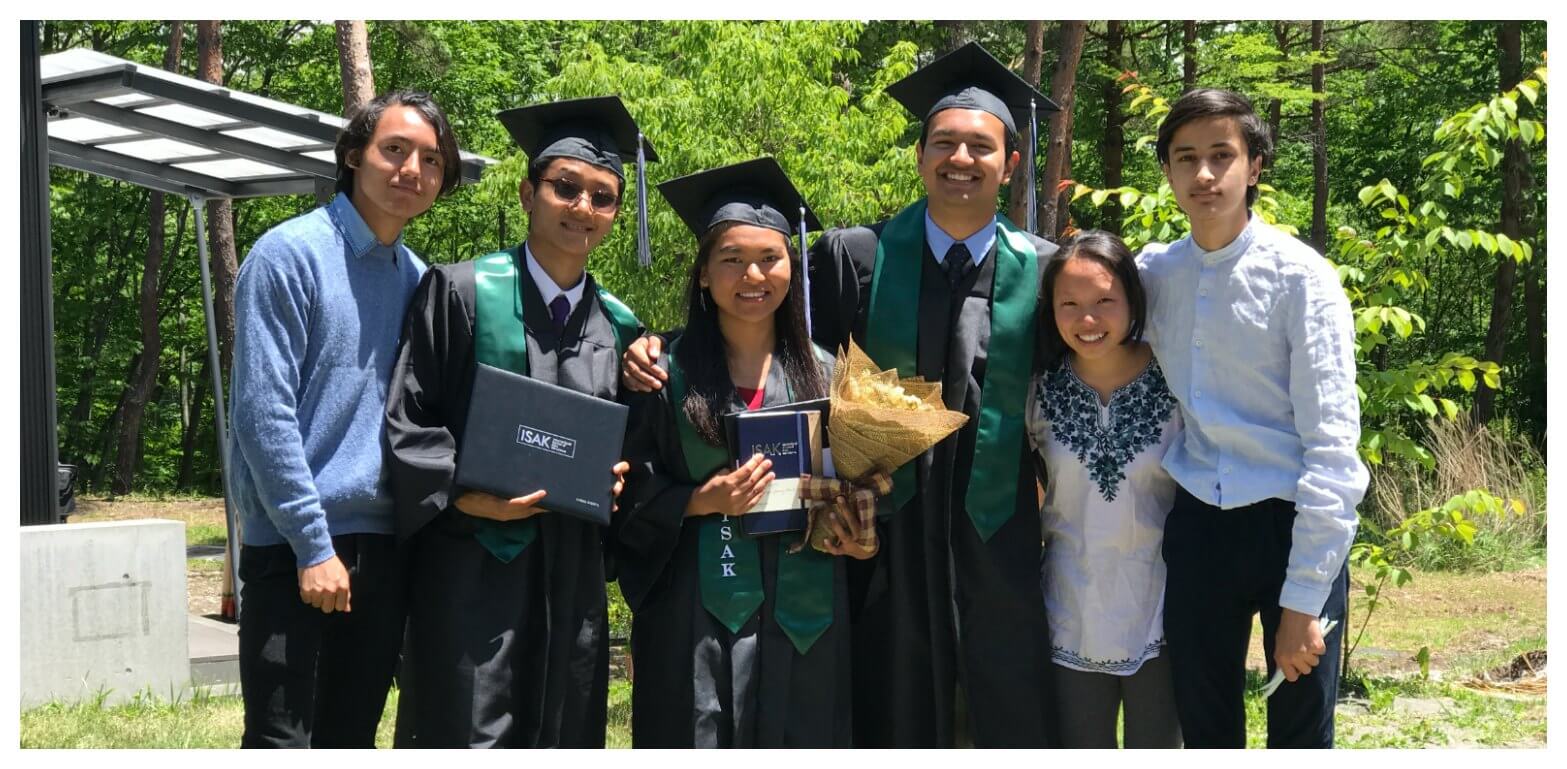 "The discussion-based classes in college, especially seminars with classmates coming from all over the world is very similar to ISAK and I feel quite comfortable in those classes while some other students are finding it a bit hard to adjust to it. Also, talk to us more if you're seeking for which way to go after graduation. I'm pretty sure we have a lot to share."
– Minami
"I think since the size of the classes were small in ISAK, that gave me the opportunity to interact with teachers and also to face my thoughts. When I came to university, the size is so huge that we all have to think and figure out by ourselves. But, I still remember those feedbacks that I got from teachers at ISAK which help me in going forward in my life in university. I don't say this out loud but I miss ISAK a lot. Don't forget that you are surrounded by the most amazing people. I really appreciate the diversity that I had in ISAK. Now I know that we and you guys are the most intelligent and kind people so embrace your amazing opportunities and people around you. I miss you all."
– Haruka
"IB specifically has definitely been the best preparation I could have had for college education. The rigour is noticeably more than for IB, but it was a good start nonetheless. One of the biggest mistakes I made was to expect my college and the people in it to be exactly like ISAK. ISAK has exceeded my expectations in every aspect, and that made me have the same kind of expectations out of college too. I don't mean to say don't be excited for college, because eventually it will become the place you make it 🙂 But also don't have unreal expectations."
– Himanshu
"Guys, please manage your time well. College is brutal! At the same time, enjoy your life. College means you'll barely have time to even breathe. Cherish the moments you can still procrastinate and write an English paper without even reading the books. Be confident. IB is tough, but after you graduate, it won't mean as much. Keep trying your best, but sometimes, let life take its course. I remember stressing out a lot during my IB exams. I would go to sleep at three and wake up at five in the morning to study. This was because I needed to fulfill my conditions to a school in the UK. However in the end I decided to go to Northwestern instead and I'm really happy with my decision. Northwestern has a diverse pool of options for academics and I'm glad that I chose this place. So guys, sometimes let it flow."
– Sam

"Please cherish your time at ISAK because nothing will be the same when you leave. I definitely consider this place my home so I hope you consider it yours too. Work hard and play hard. Find the balance and don't stress or worry too much, remember you still have time and a wonderful space to grow. Be a sponge and absorb as much as you can learn from ISAK. Everyone there is to help you grow and support you in whatever you need. Also, I'm not kidding when I say that Design Innovation and Mindful Self-Discipline is useful later in life. I miss all of you a lot. I am so happy that we are finally a UWC and that we were welcomed by the UWC campuses all over the world."
– Toni
"IB scores are important, but they should not be consuming your entire life. Make sure to enjoy your time at ISAK, hold on to the people you love tightly right now because you do not know when you'll see them again. You also don't know how your relationship with these people will be affected after you leave ISAK. Love the people around you while you can. Once IB exams are over, you'll have nothing to worry about the IB anymore, but a ton to regret if you don't show importance to your relationships and friendships."
– Sinan
"Three things I learned:
1. School and peers support are extremely valuable. Don't wait until you lose access to these resources to appreciate the necessary of it.
2. Don't wait for motivation to strike you to act.
3. For gap year enthusiast: Be ready to be lost. Choosing to pursue a gap year has been similar to a venture into Tokyo without a proper map. It's always worthy to prepare yourself with routes, alternatives, destinations, and activities you want to participate along the way. Having a concrete plan will free a lot of brain power while giving you time to take the most out of your journey."
– B
Thanks to all of the alums who took time out to share their thoughts and advice. We wish all of you the best as you start your next adventure!