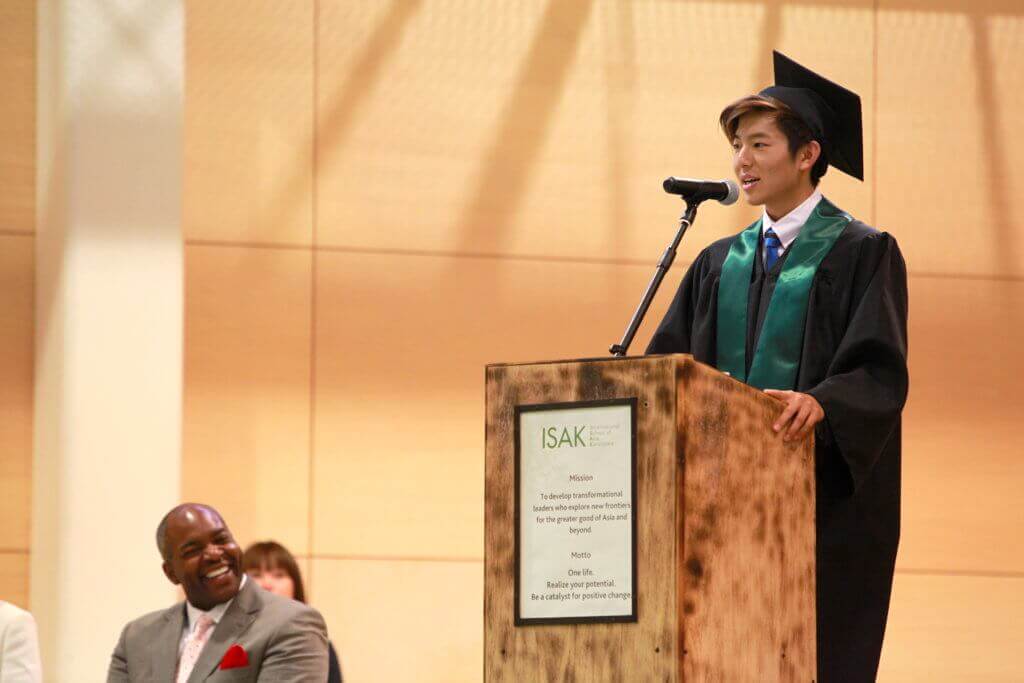 Full transcript of the graduation speech made by Koki Nagawa, Class of 2017.
(ISAK一期生の卒業スピーチ全文:和訳は後半をご覧ください。)
"Good morning everyone.
On behalf of the graduating class of 2017, I would like to once again welcome all of our staff, faculty, friends, family, and founders to the FIRST and LAST graduation ceremony of ISAK, the International School of Asia Karuizawa.
Class of 2017, we made it. Coming to ISAK I bet we were all uncertain of many things, but we overcame THE hardest times throughout our two or three years together.
And it seems like most of us are here.
If you don't mind, I'm going to start with a little story of mine. I was never supposed to come here.
The winter of 2013, I had a choice. A choice to either risk my younger brother's education and come to ISAK, or to sacrifice myself from applying to ISAK and continue my education at a 6 year Japanese private school. Now don't get me wrong, the Japanese school that I was at is competitive with alumni going to the top universities in Japan. That didn't mean that I would be in the top universities though.
Anyway, with these two choices, I chose to give up ISAK and stay where I was.
I once fully gave up on ISAK.
The application deadline for ISAK passed and I carried on with my education.
After a month or so, one of my closest friends Wataru, got his acceptance for phase 1 and had an interview coming up. Now this was weeks after the deadline passed, and well here's what happened. I got jealous. Honestly, I was jealous.
That kid made me think about my experiences at 2012 and 2013 ISAK Summer School all about. He made me regret the decision I made. I was infuriated with myself. This is when all of the miracles start to come together. I immediately emailed Mr. Jemison. I quote, "I regret very very very much about which path I chose for my life. Right now I know that going to ISAK is the best decision I can make. I am very sorry. Very sorry." After this I was able to apply past the deadline and successfully got accepted.
And so began my journey here.
Everyone in the class of 2017 risked something as they became part of this batch. Obviously to different extents but we all took some kind of risk. When the first 49 students joined ISAK, we did not have a promised IB education. We received our IB school confirmation around March of 2015, 5 months before IB started. We only became a UWC October of 2016. Our batch had the disappointment of not being able to receive the Davis Scholarships. Everyone did not necessarily get affected by these, but these are definitely risks that we had faced as the class of 2017. And I must add, with every challenge, we have grown stronger and closer together. However, we would not have made it here without the tremendous support that we received from all of you, staff, faculty, friends, family, and founders. For this we appreciate you greatly.
The classes of 2018 and 2019 have another year or two to go respectively, and we the class of 2017 are off to a new frontier and challenge. I would like to end this speech with the following message:
As I mentioned earlier, the class of 2017, our two or three years together was filled with risks and challenges. Who knew if ISAK was the right place to go. I said I did from intuition, but we were all uncertain of many things. Once we came to ISAK, we did not regret nor complain about how unstructured ISAK was. Instead took this opportunity to take action. We structured it, shaped it, molded this school into what it is now. Because of this we have the strong connection with Rising field, the international connections in Thailand, Vietnam, Nepal, Taiwan, through CAS, and individual projects we started. Every year we started the Obon festival, had Halloween parties for local kids, many talent shows, and the golden nugget that Mr. Fitz dug up from his garden. Our weekly trips to tsuruya, the onsen. These are traditions that WE created. We built the school right under our nose.
We did not know if ISAK was our right path. However we shaped this school into what it is now so that we can confidently say this was the right path. I want to tell you this to all of you with reference to a mindset that I have learned through one of our juniors.
Whatever struggle you are in, there is always hope. Do not worry that whatever path you took or will take is the wrong one, but instead make that path the right one.
We will always be your brothers and sisters providing the best support possible, I wish my classmates all the best for the future as they return to their respective countries. I wished that we could all stay forever, but as Robert Frost once said "Nothing Gold can stay".
Thank you."
みなさん、おはようございます。
第一期生を代表して、あらためて、すべてのスタッフ、教員、友人、家族、そしてファウンダーの皆さまを、ISAK、インターナショナルスクール・オブ・アジア軽井沢として最初で最後*の卒業式に歓迎したいと思います。
一期生のみんな、私たちはやり遂げました。きっと誰もが、ISAKに入学するにあたって、多くのことについて不安だったと思います。でも、私たちは、まさにもっとも大変な最初の2年または3年を、共に乗り越えました。そして、ほとんどの仲間が、今ここにいます。
まず、私自身のちょっとした身の上話から始めさせてください。私は、実はISAKに来るはずではなかったんです。
2013年の冬、私は選択を迫られていました。弟の教育を犠牲にするかもしれないリスクをとってISAKに応募するか、自分を犠牲にしてISAKは諦め、日本の私立一貫校に通い続けるか。誤解のないようにお伝えすると、私が通っていた日本の中学校は、進学校でした。だからといって私が名門大学に行っていたかどうかは定かではないのですが。(笑)
とにかく、この二つの選択肢のうち、ISAKを諦めて、そのまま一貫校に残ることにしたのです。
私は一度、完全にISAKを諦めたのです。
ISAKへの応募期限は過ぎ、私は元の学校に通い続けました。
1ヶ月後、私の親友の一人、亘(わたる)が、ISAKの一次審査を通り、面接を控えていることを知りました。
その時すでに応募期限から数週間が経っていましたが、そこで何が起きたかというと…私は、羨ましくなったのです。正直、嫉妬してしまったんです。そして、2012年、2013年に参加したISAKのサマースクールでの経験について考えさせられました。亘のおかげで、私は自分の決断を後悔しました。自分自身に激高したんです。このとき、すべての奇跡が起こり始めました。私は、すぐさまジェミソン校長にメールをし、こう書きました。
「僕は、本当に本当に本当に自分の人生において選んだ道を後悔しています。今、僕はISAKに進学することが自分にとって最良の決断だとわかりました。ごめんなさい。本当にごめんなさい。」
この後、私は応募することを許され、幸いにも合格しました。
こうして、私のISAKでの旅路が始まったんです。
一期生は皆、この学校の一員になるために、何らかのリスクをとってきています。もちろん、程度の違いは当然あると思いますが。最初の49名がISAKに入学したとき、まだ国際バカロレアのプログラムを履修できる確証もありませんでした。ISAKが国際バカロレア認定校に認められたのは2015年の3月で、IBプログラム開始のほんの5ヶ月前でした。正式にUWC校に加盟することが決まったのは2016年の10月。私たちの学年はデビス奨学金受給の対象にならないことを知って落胆したこともありました。必ずしも誰もが影響を受けたわけではありませんが、第一期生として直面したリスクであったことは確かです。でも付け加えておきたいのは、チャレンジがあるたびに、私たちはより強くなり、絆が深くなっていったことです。しかしながら、それもここにいるスタッフ、教員、友人、家族、そしてファウンダーの皆さまの多大なるサポートがなければ、成し得なかったことです。心から、お礼を申し上げます。
二期生、三期生は、それぞれあと1年または2年、卒業までに残されています。そして一期生は、新天地へと旅立ちます。このスピーチを、次のメッセージで締めたいと思います。
先ほど言ったように、一期生にとってのISAKでの2年、人によっては3年間は、リスクとチャレンジに満ちていました。誰がISAKが正しい進学先だとわかっていたでしょう。私は直感でわかっていたと言いましたが、皆、多くのことについて不確かだったと思います。ISAKにきてからは、私たちは決して後悔することなく、またISAKが未完成であることについて不平だけをいうのではなく、それを行動を起こす機会に換えました。システムを作り、工夫し、ISAKを今の姿に形づくってきました。CASを通じて、ライジングフィールドとの関係、タイ、ベトナム、ネパール、台湾との国境を超えた関係ができ、個々のプロジェクトもスタートしました。
また、毎年様々な行事、お盆祭り、地元の子供達を招待してハロウィンパーティー、多くのタレントショー、フィッツ先生の家庭菜園なども企画、実行してきました。毎週恒例のつるや(スーパーマーケット)への買い物や温泉へのトリップ。これらは私たちの学年が作った伝統です!私たちは、自分たちの目の前で、この学校を創ってきました。
私たちは、ISAKが正しい道だったのかわかりませんでした。でも、この学校を現在の形に創り上げ、今は自信を持って、これが正しい選択だったと言えます。ある後輩から学んだマインドセットを引用して、次のことをみなさんに伝えたいです。
どんなに苦しいときでも、必ず希望がある。選択をしたこと、あるいはこれから選択することが、間違っているかもしれないと気にやむのはやめよう。その代わり、選んだ道を自ら正しいものにしていこう。
私たちは、後輩のみんなにとって、これからもできる限りのサポートをする兄、姉でいたいと思っています。そして、同級生のみんな、それぞれの母国における素晴らしい未来を祈っています。永遠にみんなといれたら、と思うけれど、ロバート・フロストの言う通り、Nothing gold can stay(いつまでも変わらずにはいられない)ですね。
ありがとうございました。