Written by Angeles (Class of 2018, Venezuela)
The warmer weather has undeniably been a blessing for our intrepid explorers in the Outdoor Education program! We had a plethora of exciting trips the past month, from bouldering to hikes, that allowed us to fully appreciate the coming of this beautiful spring season.
Mitake Bouldering Trip
For the first time ever, our students who have been working on their climbing skills for at least 6 months had the opportunity to go outdoor bouldering in Mitake, a bouldering area an hour and a half by train from central Tokyo. Mitake hosts thousands of climbers each year from a variety of levels who seek to enjoy a day out on the riverside, climbing with great company. Our students left very early in the morning and had tons of fun on a 3-hour road trip. When they arrived at the venue, they all took a few moments to breathe in the beauty of such a singular space. Some of them even paddled in the river!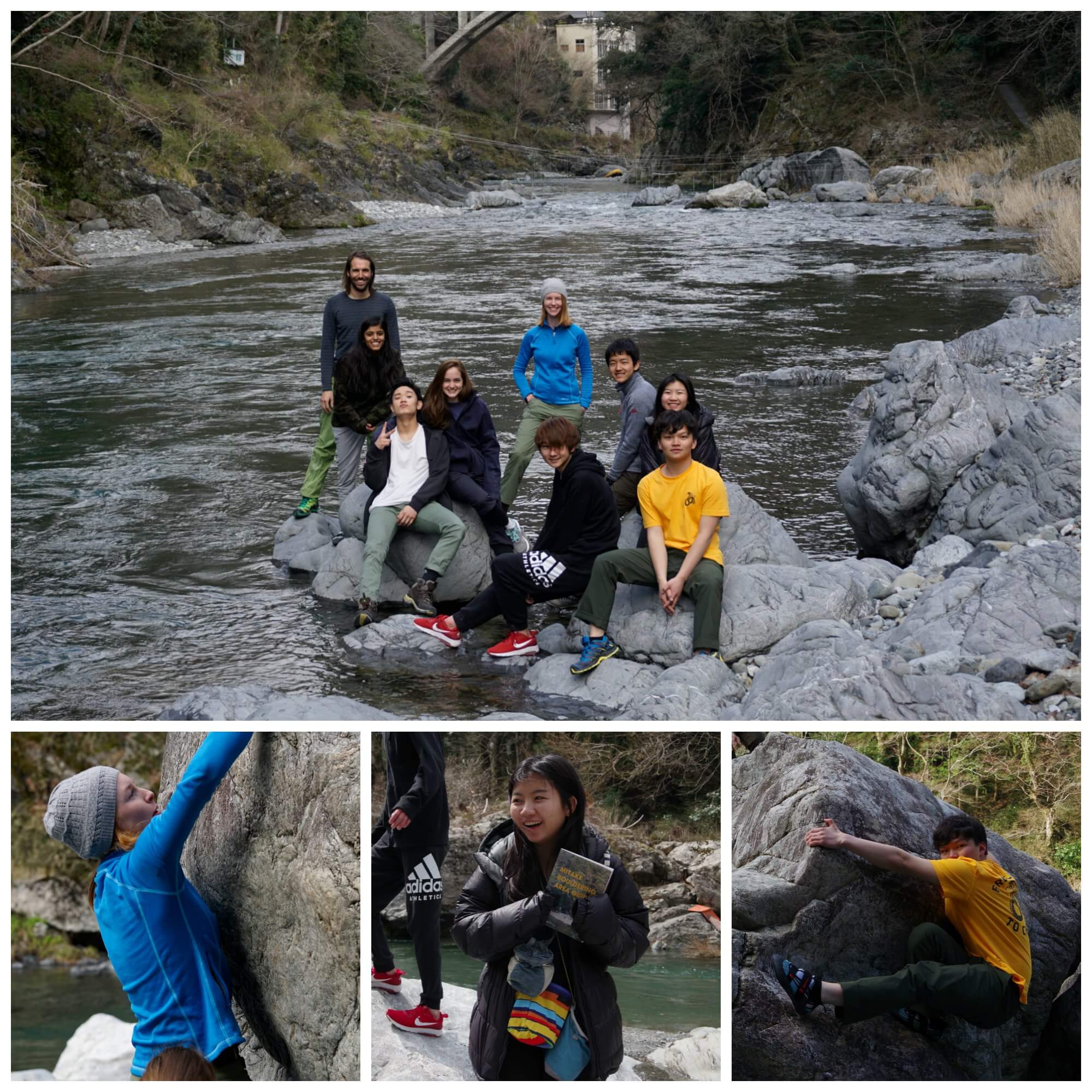 For Javi (Class of 2018, Indonesia) who has been actively climbing since he was in Grade 10, the outdoor bouldering trip was a great self-assessment opportunity. He shared that this was his first time bouldering outdoors and it was surprising how different it felt from bouldering indoors. "The routes were much shorter and sometimes, more difficult than the routes in indoor gyms. I find solving routes to be more difficult outdoors, since the holds are unpredictable. As such, it is much harder for me to power through. It is a superb way to hone my problem-solving skills, though!"
He also expressed that he enjoyed the atmosphere of bouldering outdoors. "At Mitake, the stream flows right next to the bouldering areas. It feels much better to relax in the breeze, next to a stream, when pondering how to climb a difficult boulder with the rest of your mates."
"One of my favourite things about UWC ISAK's climbing club is that it allows me to explore landscapes I never would within my own country and comfort zone – something that was evident during my experience at Mitake. Mitake allowed me not only to take a peek at what bouldering outdoors feels like – a rare opportunity in my native Singapore – but also gave me the chance to wander outside of my comfort zone and climb in front of others, which is an activity I'm quite self-conscious about. What I love about the climbing club is that regardless of whether you climb with grace or spend eternities in a precariously frog-like position, no one will make you feel like you're not a real climber."
– Estella (Class of 2018, Singapore/Indonesia)
Izu Stream 2 and 3 Expedition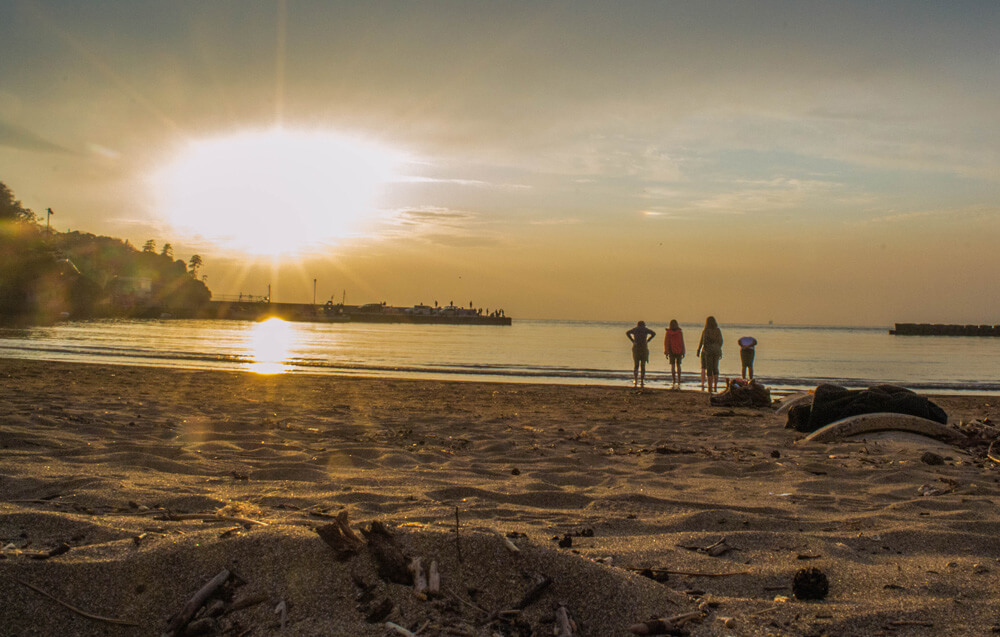 The highlight of the Stream 2 program is that students train for months in order to be able to plan and carry out their own adventures. After weeks of training, meetings, paperwork and a lot of excitement, our Stream 2 and 3 students had the chance to travel to the Izu peninsula during Spring Break!
The Izu peninsula, located in Shizuoka prefecture, is a popular getaway spot for people who live in Tokyo, given that it is very accessible by train and is located only 100km away from it. The most remarkable feature of this area is probably its beautiful coastlines, and the contrast in between them and the mountainous interior, which offered students the chance to interact with an environment that is very different from the locations that can be found near our school. The imposing Mount Fuji is seen from the west coast, as it is located 50km away from Izu, and our students did not miss the chance to snap pictures with such a beautiful feature in the background!
During the planning stage, students were in charge of using maps to analyse possible routes that could be done in a 4-day time period. Some groups sought to conquer the highest peaks of the area, such as Mount Amagi, whereas other groups looked for less intense yet longer hikes around the coast and the mountains, looking for a variety of landscapes. They were also required to write risk assessments, packing and equipment lists, and were responsible for booking transportation and accommodation. With this experience, the Outdoor Education department hoped that students would be able to plan their own trips once they graduated.
"The expedition for me was a one of a kind amazing experience! We spent 4 days on the Izu peninsula and I was fortunately blessed with great teammates and great weather. This was my first time going on an expedition with the school and it was also my first time going to the seaside in Japan. I think it was a great opportunity to spend time outside of school and refresh my mind during break."
– Alex (Class of 2020, Slovakia)

Xenia (Class of 2019, Greece) also found the trip an unforgettable experience, and expressed that she could not think of a better way to spend her break.  However, she admitted that while the spring weather, cherry blossoms, ocean breeze and wonderful teammates made the trip amazing, it was not without its challenges. "During the second day of the expedition, we got a little lost and that resulted in us walking more than expected. However, we never gave up when we encountered obstacles and we were really supportive of each other. Personally, when I was too stressed and tired and thought that I could not keep walking anymore, my teammates would push me to my limits and give me motivation (or chocolate) to keep going! After overcoming my fears and thriving through four days in nature, I feel stronger and more confident about myself and ready to take on more challenges!"
On behalf of all the students who participated in this amazing experience, I would like to express our most sincere gratitude to Ms. Mimuro, Mr. Mimuro, Ms. Kajsa, Mr. Murphy and Mr. Inoue for guiding us and helping us all the way. We would not have done it without your support!
Thirty!
The fun of the outdoors is that you can enjoy it in many different ways, whether it is challenging yourself physically, bird-watching, or chasing the sunrise! Last week, we introduced our community to the new concept of 'Thirty!'. 'Thirty!' consists of a relatively easy stroll up to a small peak to watch the sunset, after which, students are able to enjoy the landscape and sit down for thirty minutes in absolute silence. Although at first the thought of this sounded rather challenging, it ended up being a really nice experience and a fantastic way to spend the afternoon, as well as a welcome break in between study sessions.

Our students went up Kurumayama, in the Kirigamine highland area, and watched the sun set behind the Japanese northern alps.
Myogi Day Hike
Located in Gunma Prefecture, Mount Myogi offers a rocky and mountainous landscape that provides a variety of routes for different fitness levels. This hike was also our biggest Outdoor Education trip so far, with 40 people attending! The group split into five different routes, each undertaking different challenges. Some groups enjoyed a stroll around the area and made it to the tourist information sector, where there is a shrine and opportunities to enjoy Japanese food, and other groups went up the mountains, facing chain sections and using ropes to make their way across the area.

"Something that I took away from this experience was to expect the unexpected. Initially, it was supposed to be a 2-hour stroll, and it ended up being a 4 hour hike. Every time I thought about giving up, I would say to myself, "I am so close to finishing, I can't afford to give up!" which was a nice way of putting things into perspective. The group that I went with was very relaxed, and when people got tired, no one judged them nor pressured them, but instead supported them all the way through. I think this is what true teamwork and love looks like."
– Nora (Class of 2018, Myanmar)