In late 2018, the Interfaith Programme embarked on a trip of discovery to Tokyo. It was the first such trip for the Programme, which was initiated in 2017 with the purpose to grow as individuals and as a community in making diversity a strength by learning about a precious and deep aspect of our identities: our beliefs.
This trip was attended by 13 students and 2 faculty with the theme "Footprints of Infinite in Tokyo –  A Journey Through the Architectures, the History and the People of the Major Religions in Japan." The group set out with several goals in mind:
To explore and learn about places of worship and faith-inspired architecture in Tokyo (Sensoji Asakusa Temple, Sky-Tree, Meiji-Jingu Shrine, St. Ignacio Catholic Church, Tokyo Mosque)

To experience personal encounters with people of different faiths and beliefs

To explore and experience Shingitai, the connection between heart and body (through an experiential workshop).
In this article, which is the first of a two-part series, we look at some of the highlights of the trip. Part two will run in the next newsletter, where we'll go deeper into what the students learned and what is next for the programme.
Kristine (Class of 2020, Latvia)
Being able to meet and speak to people from many other religions and also non-religious was very beneficial, interesting and moving. After having dinner (the best pizza in Tokyo), father Andrea encouraged us to start a discussion, in which we were able to share our beliefs and get to know each other on a much more personal level. Having an opportunity to learn about other religions has raised a lot of thoughts, questions and also answers for me, which is always a beautiful way to grow.
Even for non-religious people or people from different religions, there are so many things to take and embrace from these many different lifestyles – there is a lot of wisdom and beauty in all of them.
Leonard (Class of 2020, Germany)
This was the first time during my time in Japan, that I really connected and understood parts of the Japanese culture. The program was amazing and in only two days I learned more about Japanese culture than in the entire 3 months before.
One of the highlights for me was when we visited the Meiji-Jingu shrine. The explanations really helped me understand the purpose of the Shrine. I could understand in depth and appreciate this amazing piece of nature in the middle of Tokyo. I noticed many characteristics that made a lot of sense to me, but which I would have never noticed without the explanations. For example, that you should not step on the threshold in the entry to the Shrine; or that people are supposed to walk on the sides of the path since the middle needs to be kept free so that god could walk there.
Desel (Class of 2019, Bhutan)
The overall willingness and eagerness everyone had to learn and be open-minded about such matters was extremely refreshing, and a mindset that I am unused to from peers my age.
Sweswe (Class of 2020, eSwatini)
The trip was really refreshing. Being away from school is always nice. The whole trip was quite insightful. It was interesting to get insiders' perspectives on the practice of their different religions here in Japan, especially since Japan is not a majorly religious country. Also, being exposed to religions such as Shintoism that I would not have otherwise been exposed to or even been aware of if I was still in eSwatini was an eye-opening experience. The trip gave me a whole new outlook on what it means to believe. It was inspiring to see people, despite the environment, devote themselves to their faith. And the group of people I was with only made it that much more enjoyable.  It was beautiful seeing how everyone reacted so positively to the whole experience, especially those who are not part of the Interfaith dialogue group. Given the chance, I would not change a single thing about the trip.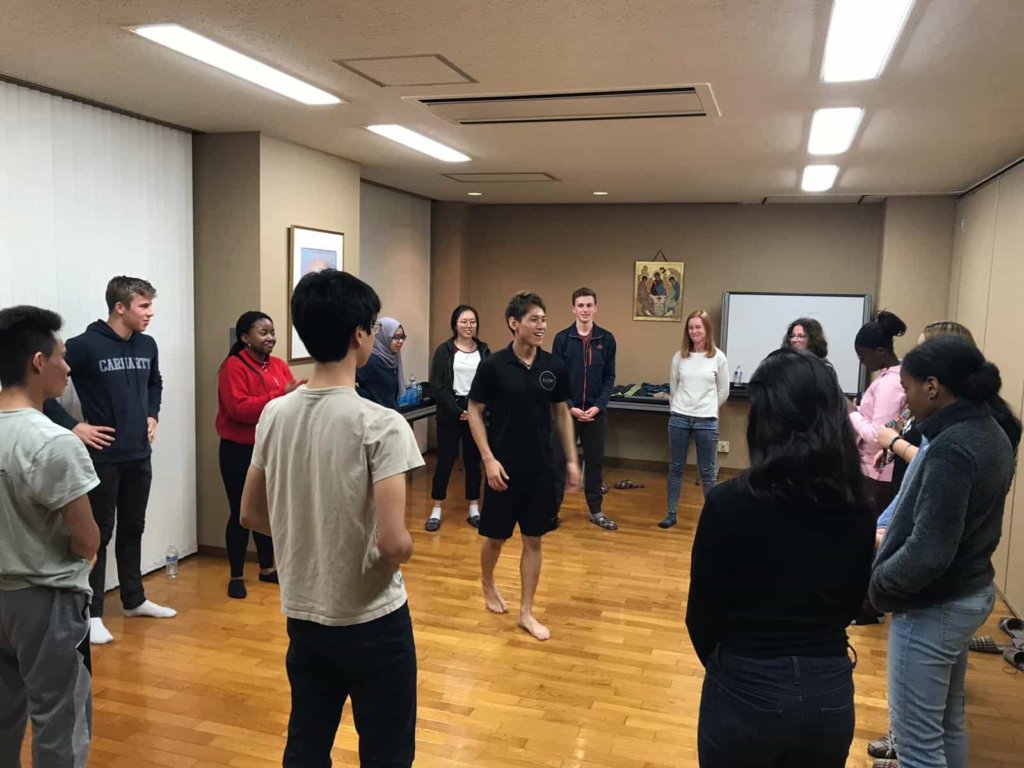 Na-Il (Class of 2020, Thailand)
For me, the highlight of the trip was visiting the church, since I've never been inside a church before and the fact that it also mixed with the zen culture was very meaningful. Through this interfaith trip, I realized that I embraced my religion and culture more as well as respect, accept and appreciate the different perspective and culture of other religions.
Hamidulla (Class of 2020, Afghanistan)
A highlight for me was visiting Meiji Jingo and learning that the forest around it was built by people was amazing. Till that day I didn't realize that Buddhism and Shinto are connected very strongly to each other in Japan.

Ben (Class of 2019, USA)
For me, a definite highlight of the trip was learning more about how the unique religions and systems of beliefs of Japan. Coming from abroad, the experience was eye-opening and enabled me to gain a much better understanding of Japanese culture.
Mayamiko (Class of 2020, Malawi)
I learned a lot on this trip. It helped me realize that our religions interconnect in several ways. It was so amazing to actually be in these places where people come together to practice their beliefs.
What interested me the most was the Mosque. It gave me a chance to learn more about it despite having this religion back home.
Kai (Class of 2021, Japan)
I felt the tension when I entered the church and the mosque. It was similar to what I felt in a secret forest. It came from uncertainty and it changed to admiration as I felt its beauty.
Aaliyah (Class of 2020, USA)
One highlight from the trip was visiting the Mosque. It was my first time ever being in a mosque despite having a lot of Muslims friends back home. Going there showed me the beauty of the Islamic faith that is sometimes forgotten due to unsubstantiated fears. I also liked visiting the Meiji Shrine and learning more about Shintoism and its importance in Japanese culture.
Andrea (Class of 2019, El Salvador)
Experiencing a new culture, this is my main highlight of the trip for me, because is true that we are in Japan, but personally being in ISAK I don't feel exposed to what actually the country is, so for me this trip helped me to understand better: the culture, people, history and religious part of the country. I really enjoyed that everyone was so involved and so passionate about learning new things, because this made me think that there are people for my age that are still interested in these topics.
This article is the first in a two-part series, we look at what the students identified as highlights of the trip.