"Silence is the necessary soil for any thought to flourish" – Stephen Hough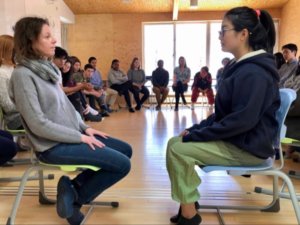 This Spring, UWC ISAK Japan's Interfaith Dialogue Group held its annual festival. By employing the theme of Silence (静けさ), which the Group identified as a gateway to the innermost part of self, Nature and the Divine, it sought to foster an opportunity to discover and explore silence as one of the foundations of meaningful relationships.
The weekend festival was open to all members of the UWC ISAK Japan community to join any of the various sessions, which ranged from sitting, moving and sharing in silence sessions to the Japanese practice of Shinrinyoku, which translates to forest bathing, but only involves the figurative element of bathing in the forest atmosphere, or taking in the forest through our senses.
The festival took place only a few short weeks before IB exams kicked up so it was a welcome reprieve from the inevitable stresses that precede exam season.
Maria (Class of 2019, Mexico), reflected, "I feel grateful for having the interfaith festival as it provides a very important and intimate space for students. Our time is incredibly dynamic and busy, with a strong focus on academic challenges and emphasis on social events. Here, we are given a great opportunity for intellectual and social development, yet we must also remember that as human beings we also require for time to nurture our spirits as well.
"The UWC seeks for multiculturalism to thrive; in that sense, religious beliefs and personal faith are also essential parts of one's culture and identity. The interfaith dialogue group has provided a safe environment for students of diverse faiths to learn about each other and cultivate spirituality."
It has been a momentous year for the Interfaith Programme Team, who organized 3 events for the community. The Group is already looking forward to new opportunities in the next school year, including a planned trip to watch Sumo in Tokyo, a sport steeped in tradition and inextricably linked to Shinto, which will be the focus of the trip.
For more information about the Interfaith Festival and the Interfaith Dialogue Group at UWC ISAK Japan, visit this link.