Written by Vorapon (Class of 2019, Thailand)
After a 'warm' welcome back on campus, it's been a cozy year for Outdoor Education (OEd) to run interesting activities and cherish the UWC ISAK mission of leadership like never before! Here is a quick look at some of the adventures that we have been on in the past month.
Kirigamine Snowshoeing (Feb 10th)
The first OEd hike to kick off in February takes us to the flat highland meadow in southern Nagano. The trip was led by veteran Stream 3 leader, Kunawat (Class of 2018, Thailand) and a newly-minted Stream 3 student, Melissa (Class of 2019, Lebanon). It was fairly cloudy and chilly at -7 degrees celsius with good visibility that allowed us to see as far as Mount Fuji and Mount Yarigatake!
Due to its proximity and fairly easy route, Kirigamine is the go-to hike for most inexperienced hikers. Its high elevation has an accessible peak that gives a 360 degree view to the valleys surrounding three sides of the mountain. As this hike also serves as trainings for new stream 3 and stream 2 students, we were able to put up some surprises and scenarios to challenge and practice great survival skills.

"After we found out that we were lost I had expected panic to ensue within the entire group. However the collaboration and teamwork that followed surprised me most."
– David (Class of 2019, Lithuania)
Following the hike, OEd also organized a great reflection session in which participants had a great time discussing and reflecting on their experiences!
Utsukushigahara (Feb 17th)
The second main hike of our agenda this month took us to Utsukushigahara – another highland meadow right on the southern Nagano border tailored specially to inexperienced hikers and in-training Stream 3 and Stream 2 students.

Utsukushigahara involves more navigation skills and physical endurance due to the change in elevation and complex blinding terrain. However, it was nothing our fully trained Stream 3 members, Cristina (Class of 2019, USA) and Mari (Class of 2018, Japan), could not handle. The weather started off on an outcast and frosty day with temperatures as low as -10 degrees. Hiking up the ridgeline, students saw many grandmas and grandpas overtaking them as this is a very popular go-to spot for fit elderly couples.
As the team approached the peak, there was a shift in wind direction which brought the whole team into a risky position on the downwind side. After a little bit of careful planning and an extra push, the team was able to reach the top, rejoice and feel accomplished about what they had just been through. Although they weren't able to see much due to the weather conditions, the whole team was still energetic and made a quick descent for a safe return to campus.
Nozawa Onsen Skiing (Feb 18th)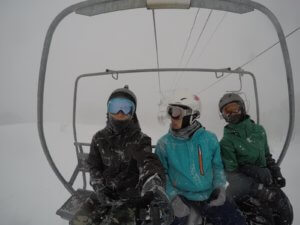 With a large number of advanced skiers on campus this year, many of us wanted to visit a larger ski resort outside of Karuizawa. OEd answered wit a day trip to Nozawa Onsen Ski Resort in northeastern Nagano. It was a very lucky weekend as it had snowed up to 20 cm the day before! There was great powder when we arrived and there weren't that many people occupying the upper half of the piste. However, visibility definitely was on the low end at only around 10 meters. However, all of us were able to have fun responsibly and have a wonderful day together.